Machu Picchu reopened after closure for security reasons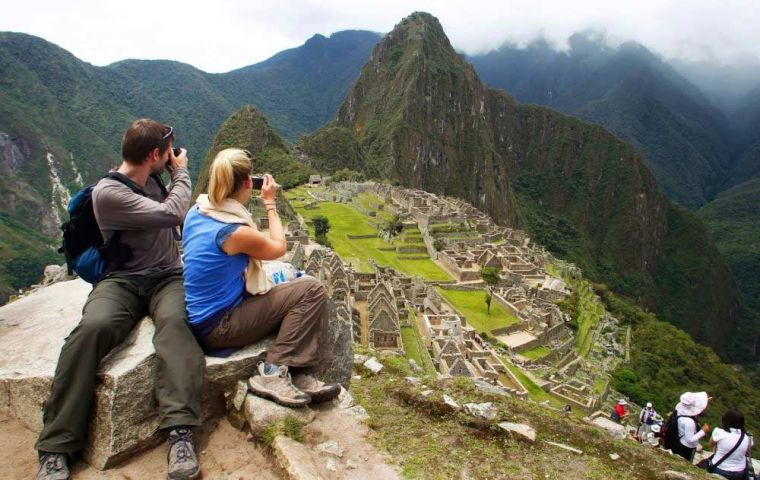 Peruvian authorities reopened the Inca citadel of Machu Picchu Wednesday following 25 days of closure as a result of mounting violence since the impeachment of Pedro Castillo Terrones and the ensuing protests demanding President Dina Boluarte's resignation and fresh elections, among other measures.
Some 700 tourists had come to the archaeological site by midday Wednesday, it was reported. "Capacity is 4,044 visitors a day in eight shifts from 6 am to 4 pm," according to Cusco Culture official Maritza Rosa Candia. The famous archaeological enclave, built in the 15th century by Inca Emperor Pachacutec, was closed to tourism on Jan. 21, while the railway linking Cusco to Machu Picchu was interrupted for 18 days after attacks by protesters. Machu Picchu is only accessible by train after Ollantaytambo. It was only last week when trains partially resumed services for local residents.
The Decentralized Direction of Culture of Cusco reported that by noon the Inca sanctuary had already received more than 700 visitors and by the afternoon the number was expected to maintain that trend. The daily capacity is 4,044 tourists per day.
Machu Picchu's Chamber of Commerce and Tourism President Maycol Ugarte Vilca told Agencia Andina that he hoped that measures will continue to be taken to recover social peace so that tourism may return to pre-pandemic figures. "The Executive and the Legislative must address the situation to pacify the country", he expressed.
Machu Picchu was closed for security reasons on Jan. 21 and it was reopened this week after commitments from the Machu Picchu Management Unit (UGM), Machu Picchu and Ollantaytambo municipal authorities, directors of the Chamber of Commerce, and leaders of social organizations.
Thousands of tourists who had purchased tickets beforehand were affected by the closure. Unused tickets issued after Jan. 1 will be honored with no additional requirements, it was explained. However, those needing a refund will have to get in touch via email (ingresos@culturacusco.gob.pe).
Following the interruptions, Cusco's tourism operators are launching discounts from 20% to 60% to recover the activity.