Brazilian beef sales to China suspended due to case of mad cow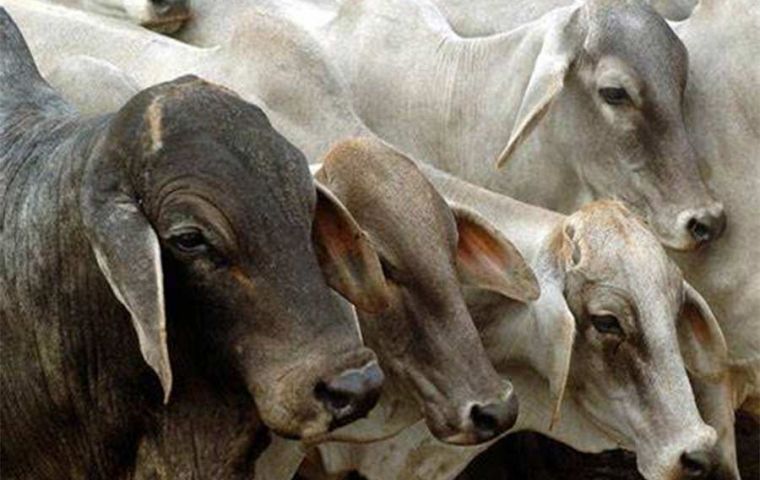 Brazil's Ministry of Agriculture announced Wednesday that even though it poses no threat to human consumers, beef exports to China are to be halted effective Thursday after a case of the mad-cow disease has been confirmed in the State of Pará, Agencia Brasil reported.
The measure follows the sanitary protocol between the two countries, it was also explained.
"Dialogue with the authorities is being intensified to demonstrate all the information and the prompt resumption of trade in Brazilian meat," the Brazilian ministry said in a statement while pointing out that the detection had been in a 9-year-old male animal, an advanced age for bovines, in a small property in Marabá (PA). The animal was raised on pasture and had its carcass incinerated on the farm, which was banned by Pará authorities on a preventive basis.
According to the federal Agriculture Ministry, the case was reported to the World Organization for Animal Health (OMSA), while samples were sent to a laboratory in Alberta, Canada, to confirm whether the case is atypical, that is, without risk of transmission to other cattle and to humans.
"All measures are being taken immediately at each stage of the investigation and the matter is being treated with full transparency to ensure Brazilian and global consumers the recognized quality of our meat," Minister Carlos Favaro stressed.
It is the second time in a year and a half that Brazil suspends beef exports to China, who stopped purchases between September and December of 2021 after two atypical cases, in Minas Gerais and Mato Grosso.
Brazil has so far never recorded any classic case of mad cow, caused by the ingestion of contaminated meat and pieces of bones. Caused by a prion, a protein molecule without a genetic code, mad cow disease is a degenerative disease also called bovine spongiform encephalitis. The modified proteins consume the animal's brain, making it comparable to a sponge.
In addition to oxen and cows, the disease affects buffalo, sheep, and goats. The ingestion of meat and animal by-products contaminated with the prions causes transmissible spongiform encephalopathy in humans. In the late 1990s, there was an outbreak of mad cow disease in humans in Great Britain, which caused the country to suspend beef consumption for several months. At the time, the disease was transmitted to humans through cattle fed contaminated animal feed. (Source: Agencia Brasil)