Massa has busy agenda in India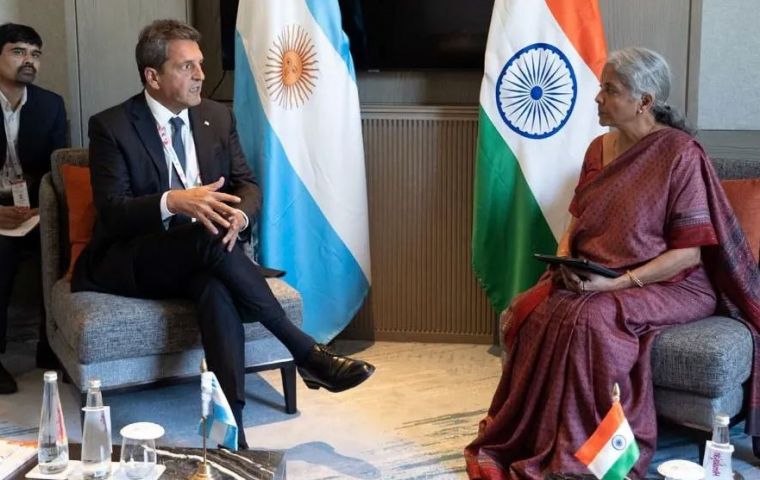 Argentina's Superminister of Economy Sergio Massa met Thursday with colleagues from hosts India and also of China during his stay in the Indian city of Bengaluru, the capital of the Indian state of Karnataka, where arrangements are being made by finance ministers and central bank presidents for the G20 Summit of heads of state and government later this year.
First, Massa discussed investment opportunities for the development of smart and inclusive cities and the role of multilateral banks with his Indian colleague Nirmala Sitharaman, with whom the Argentine official reviewed the various mechanisms for strengthening reserves, particularly currency swaps to promote trade while complying with international agreements on financing the energy transition.
Massa then held a bilateral talk with Wang Dongwei, Vice Minister of Finance of China. The South American official was escorted by Argentina's Central Bank (BCRA) President Miguel Pesce, and by Secretary of International Economic and Financial Affairs Marco Lavagna, who also heads the National Institute of Statistics and Census.
During the meeting, progress was made on bilateral economic and financial cooperation related to Chinese financing for infrastructure projects for development in Argentina, together with possible investments in transport and energy projects, as well as currency swaps for bilateral trade.
Massa is to meet Friday with Frabce's Bruno Le Maire, Brazil's Fernando Haddad, and with World Bank Managing Director of Operations Axel van Trotsenburg.
The Argentine minister also sat close to International Monetary Fund (IMF) Managing Director Kristalina Georgieva during the welcome dinner hosted by Indian composer Ricky Kej. Massa and Georgieva agreed on a formal meeting next Saturday. In the meantime, neither Massa nor Georgieva referred to the ongoing negotiations in Washington DC between an Argentine technical mission and the IMF.
The final communiqué of the G20 in Bengaluru will likely include a direct recommendation to the IMF to cut down the surcharges billed to emerging countries amid a disfavorable scenario due to the war in Ukraine and the extended drought.
Before dinner, Massa also met for an hour with US Treasury Undersecretary for International Affairs Jay Shambaugh at the Hilton Hotel Convention Center. Shambaugh reportedly acknowledged the efforts Argentina is making in the current global crisis.