Brazil: Relief workers find last missing person in São Sebastião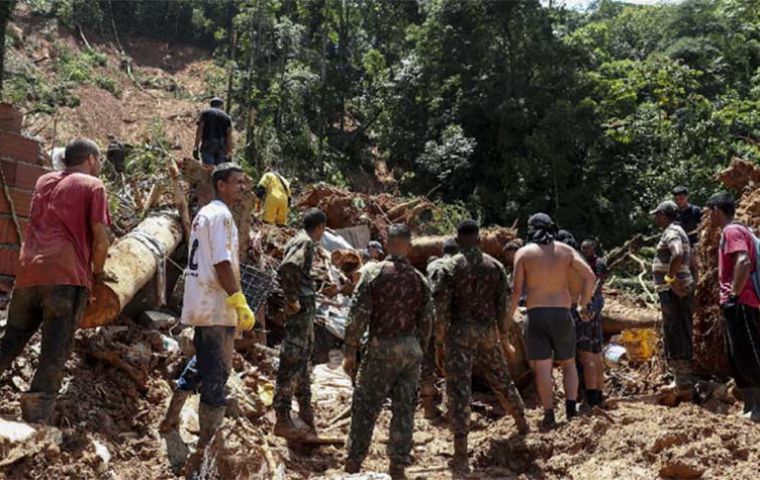 Relief teams Sunday found the last missing person in the Brazilian town of São Sebastião, bringing the total number of casualties from the storms and mudslides earlier this month to 65, Agencia Brasil reported.
The local Fire Department confirmed Sunday afternoon that the last missing person from the landslides in Barra do Sahy, in São Sebastião, on the northern coast of São Paulo, has been found. With this finding, the number of casualties from last weekend's storms reached 65. Except for the girl in Ubatuba, the 64 others were in São Sebastião.
Rescue teams were conducting a survey later Sunday to confirm with the Civil and Military Police as well as with residents' associations if there were still people unaccounted for and thus decide whether to move on to the next phase.
Last weekend, 682 millimeters of rain hit the region, causing mudslides and landslides, with many neighborhoods cut off from carnival celebrations because of the damage to the Rio-Santos Highway, as the port city could only be reached by helicopter and boat. The situation also caused power and water shortages in many parts of the city.
In the first hours, the rescue work was done by residents of Barra do Sahy, the neighborhood most affected by the landslides, since the fire department and Civil Defense teams had difficulty accessing the area. Survivors and the bodies of the victims were taken to the headquarters of a non-governmental organization until professional rescue teams could reach the site.
A bulletin released by the São Paulo State government Sunday said that the bodies of 55 people (20 men, 17 women, and 18 children) had been identified and released for burial. The floods and landslides also left thousands homeless.