IMF to relax quarterly reviews of Argentina's reserve targets after Massa-Georgieva talks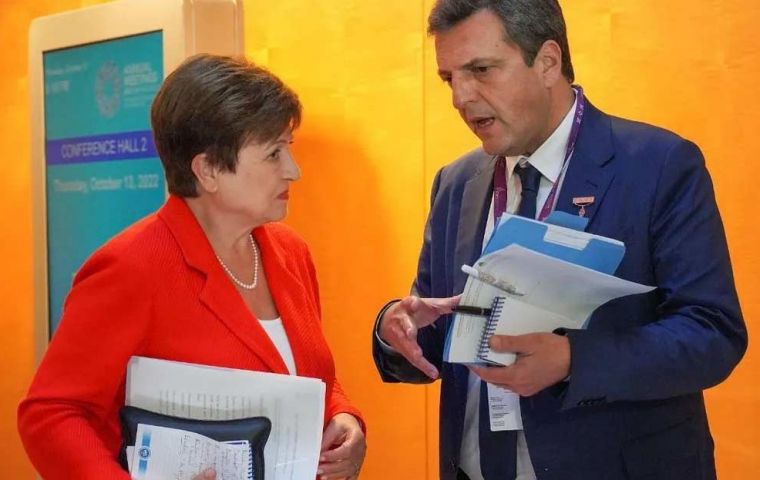 Argentina's Economy Minister Sergio Massa and International Monetary Fund (IMF) Managing Director Kristalina Georgieva held a bilateral meeting this weekend at the Indian city of Bengaluru where arrangements were being made for the G20 Summit of heads of state and government later this year.
During the encounter, it was agreed that the IMF will no longer review Argentina's reserves quarterly, in a move to adapt to the reality facing the South American country in a global crisis scenario.
Georgieva thus accepted Massa's request to give the Argentine Central Bank (BCRA) a break due to the drought affecting agrifood production in addition to the effects of the war in Ukraine.
The adjustment, which leaves all other guidelines untouched, such as deficit and monetary issuance, is to be announced officially from Washington in the next few days. Massa and Georgieva agreed that revisions will be more flexible and will therefore not be carried out on a quarterly basis. Georgieva's decision was regarded as a victory by Massa, since discussing the Argentina case was not on Georgieva's agenda when traveling to India and the South American official managed to arrange a private meeting leading to this result.
"The consensus with the IMF is that it is better to adjust the programming of the year's work from the beginning to provide predictability and not to have to make waivers during the year," said Massa after the meeting with Georgieva.
It was Massa's third talk with Georgieva within a G20 setting. They had last talked in October 2022 in Bali, Indonesia, together with President Alberto Fernández.
Massa insisted on the damage to reserves amid gloomy projections for wheat, barley, soybean, and corn crops. "War and drought play a role in our economy and it is better to deal with it by setting achievable targets so that we are not correcting every quarter," Massa argued while stressing that the country needs to be "predictable" instead of going around asking for waivers every 30 or 60 or 90 days.
The Minister also hoped the new measure helps curb inflation in an election year.
After Georgieva confirmed to Massa that Argentina over-achieved three out of four quarters in terms of reserves, fiscal targets, and monetary policy, the IMF is about to make a US$ 5.4 billion disbursement to Argentina, it was reported.
According to the last IMF review, Argentina's targets in terms of BCRA reserves are to become more flexible. Georgieva reportedly pointed out that the review of goals was progressing at a "good pace" and hence the next wiring will be around March 22 after the BCRA faced a strong foreign currency demand for the summer season in February. The IMF draft will arrive in SDRs (Special Drawing Rights), the IMF's currency, but 50% will go straight back to the IMF: about US$ 2.7 billion in principal and interest maturities for the loan it granted to Argentina in 2018.