De Moraes says STF has jurisdiction to try Jan. 8 suspects whether civilian or military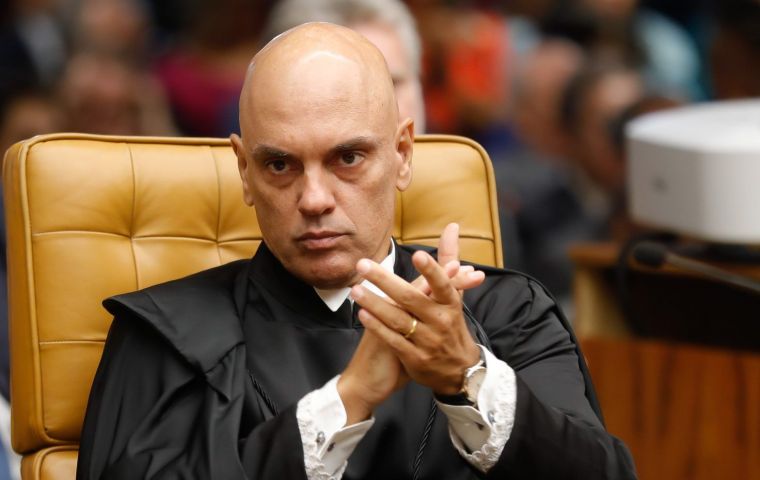 Brazilian Supreme Federal Court (STF) Justice Alexandre De Moraes Monday said civilian magistrates may try military personnel involved in the Jan. 8 riots in Brasilia, Agencia Brasil reported.
As per the new ruling, the STF may now investigate and judge military personnel suspected of involvement in the acts that resulted in the Jan. 8 storming of the headquarters of the three branches of government in Brasilia. The magistrate also launched an inquiry into the participation of members of the Armed Forces and the Military Police of the Federal District suspected of participating in the movement.
"I establish the competence of the Federal Supreme Court to prosecute and judge the crimes that occurred on 8/1/2023, regardless of whether those investigated are civilians or military and I uphold the representation of the Federal Police and authorize the opening of investigative proceedings to investigate the authorship and materiality of possible crimes committed by members of the Armed Forces and military police related to attacks against democracy that culminated with the criminal and terrorist acts of January 8, 2023," De Moraes wrote in his decision.
De Moraes authorized the opening of the STF proceeding when analyzing a request from the Federal Police (PF) to investigate the conduct of military personnel. According to the Federal Police, there is a suspicion of participation and omission of military personnel from the Institutional Security Cabinet and the Presidential Guard Battalion, the report also noted.
In justifying the STF over the Military Justice jurisdiction, De Moraes argued that the crimes under investigation are provided for in the Criminal Code and that the law does not distinguish between civilian and military investigators. "The legal accountability of all the authors and participants of the countless crimes against the democratic rule of law should be carried out with absolute respect for the principles of due legal process and the Natural Judge, without any distinction between civilian and military public servants," said De Moraes, who also argued that the STF had already decided that the Military Penal Code does not cover civilian crimes. "The Military Penal Code does not protect the person of the military, but rather the dignity of the institution of the Armed Forces itself. As peacefully decided by this Supreme Court when it defined that the Military Justice does not judge military criminals, but military crimes," added the magistrate.
Those involved in the Jan. 8 events are investigated for terrorist acts, threats, persecution, damage, incitement to crime, arson, armed criminal association, violent abolition of the Democratic State of Law, and attempted coup d'état.
(Source: Agencia Brasil)