NYPD on "high alert" ahead of Trump's arrest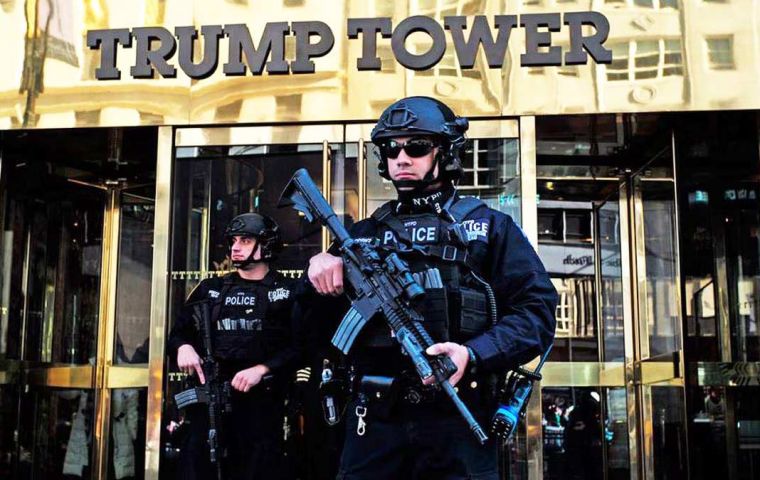 The New York Police Department is taking precautions in case followers of former President Donald Trump stage protests before or after his arrest, scheduled for Tuesday, it was reported. Officials from the New York Police and Trump's secret service bodyguards met during the weekend to finalize the details of the detention.
Trump had already warned his followers about what was to come and asked his followers to protest in the streets to "take back the country" and even predicted "fire and destruction."
On Fifth Avenue, where the famous Trump Tower is located, some fans rallied to give their support to the controversial right-wing leader. "This is all political, Trump is innocent, he's a wonderful man," proclaimed the fans, who accused Prosecutor Alvin Bragg, known for his Democratic allegiance, of being politically motivated to turn nonsense into a crime.
Meanwhile, Susan Necheles, an attorney for Trump, has been quoted by local media as saying that her client will not resist arrest when he presents himself at the Manhattan Criminal Court on Tuesday. "It will be a smooth surrender," Necheles said.
The indicted Republican leader will voluntarily present himself to face charges regarding an alleged 2016 "hush" payment made to porn star Stormy Daniels.
Final arrangements for Trump's appearance were still being hammered out on Friday by staff at the Manhattan Criminal Court as well as the Secret Service and the New York Police Department, Necheles also said.
Although the full details of Trump's indictment have not yet been made public, it became known that the case is related to Daniels, whose real name is Stephanie Clifford, claiming she had an affair with Trump soon after his wife, Melania, had given birth to their son Barron, and that the payment was intended to buy her silence ahead of a presidential election.