EU should reconsider electric cars-only plans: not enough lithium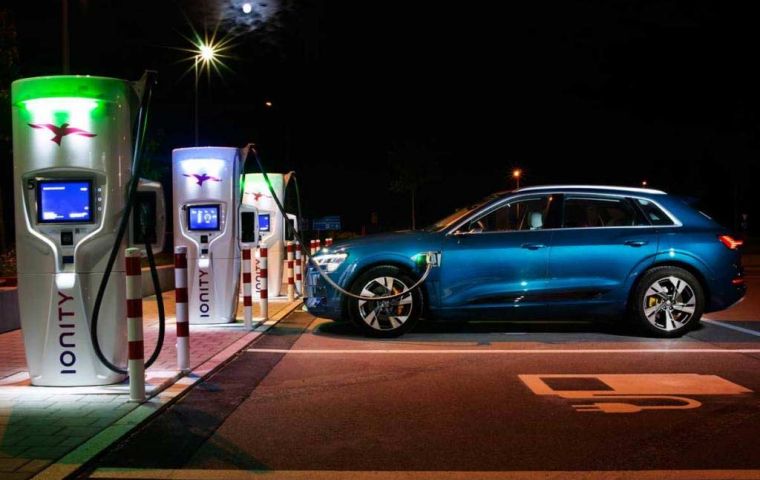 Europe's plans to ban all fossil fuel-powered vehicles by 2035 might be thwarted by the world's lithium supply not being large enough, according to a Financial Times report published Sunday. If the European Union is to switch to electric cars, demand for lithium will skyrocket and there would not be as much supply, the article noted.
The European Union's (EU) race to electric cars is threatened by a persistent shortage of lithium, a key component of the batteries that will power the vehicles, the Financial Times reports Sunday.
EU plans to ban the sale of new gasoline- and diesel-powered cars by 2035 have only caused the search for the mineral used to make batteries to reach unprecedented levels.
The newspaper, which reports data from Benchmark Mineral Intelligence, argues that the EU's plans to ban the sale of cars powered by conventional engines mean that demand for lithium will increase fivefold by 2030 to 550,000 tons per year, more than double the 200,000 tons that the region will be able to produce.
Meanwhile, Daisy Jennings-Gray, an analyst at Benchmark Mineral Intelligence, said that "the entire world market will still be in deficit by the end of the decade".
Notably, the world's largest lithium producer, Albemarle, shelved plans to mine lithium in Europe after failing to find a commercially viable site. "The resources we are aware of in Europe are not of high quality and are relatively small," the company's chief financial officer, Scott Tozier, told FT.
Against this backdrop, the anticipated lithium shortfall may prove existential for European automakers, the newspaper notes. According to FT, "without local supplies of the battery gold, European car groups could find it difficult to compete with China, which is rapidly expanding its electric car industry and making inroads into the European market."
One sign of Chinese dominance here is that it controls 60% of the world's lithium processing - which converts a concentrate produced from brine or ore into lithium chemical compounds, such as carbonate or hydroxide, and used in car batteries.
Francis Wedin, CEO of Vulcan Energy Resources, a publicly traded Australian company and one of the few trying to extract lithium in Europe gives the key insight: "The region's car industry will not be able to electrify its future vehicle fleet without its own lithium."
The expected shortfall of lithium in a market already suffering from a global shortage and high prices of US$ 62,000 per tonne (more than 5 times the average cost of production despite a recent drop) could prove crucial for European automakers.