US: Robert F. Kennedy Jr. to enter Democratic Party primaries for 2024
Thursday, April 6th 2023 - 09:57 UTC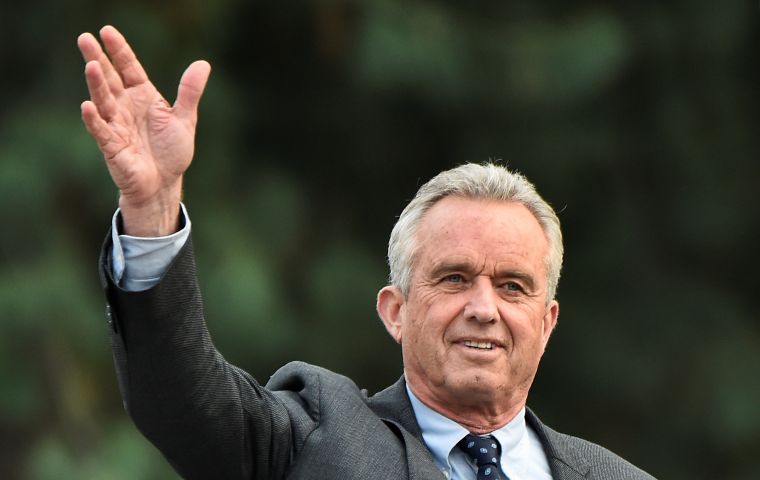 Robert F. Kennedy Jr., a nephew of former US President John F. Kennedy, filed the customary paperwork to enter the Democratic Party's primaries in 2024, it was reported Wednesday.
The environmental lawyer known for his anti-Covid-19 vaccine stance is the son of former New York Senator, US Attorney General, and 1968 assassinated presidential candidate Robert Francis Kennedy.
A longtime vaccine skeptic, Robert Jr. has promoted discredited claims linking vaccines to autism. He founded the anti-vaccine organization Children's Health Defense and has also criticized coronavirus vaccines and condemned the US government's handling of the pandemic. Instagram deleted his account "for repeatedly sharing discredited claims about coronavirus or vaccines."
"If it looks like I can raise the money and mobilize enough people to win, I will join the race," he said last month.
As an environmental lawyer, Kennedy worked with a group that led the Hudson River cleanup. He also worked for the Natural Resources Defense Council and co-founded an environmental law firm.
In addition to his father and uncle, his sister Kathleen was lieutenant governor of Maryland from 1995 to 2003. His brother Joseph was a congressman from Massachusetts from 1987 to 1999. And most recently, his brother Chris Kennedy was a failed candidate for governor of Illinois in 2018.
The last Kennedy to hold elected office was his nephew, former Massachusetts Rep. Joe Kennedy III, who lost the 2020 Democratic Senate primary and who is now the US special envoy for Northern Ireland. His cousin Caroline Kennedy, a daughter of JFKs, is currently the US ambassador to Australia.
With the 2024 Democratic presidential race just beginning to take shape, incumbent President Joseph Biden is expected to announce his candidacy for re-election. Kennedy Jr is the second Democrat to enter the race after self-help author Marianne Williamson launched her second White House bid last month.
During the pandemic, Kennedy repeatedly spoke out against the Covid-19 vaccine and accused leading infectious disease doctor Anthony Fauci of orchestrating "fascism."
"If I run, my top priority will be to end the corrupt merger between state and corporate power that has ruined our economy, shattered the middle class, polluted our landscapes and waters, poisoned our children and robbed us of our values and freedoms," Kennedy wrote on social networks last month.