Bomb attack on police force in Londonderry, a day before President Biden arrives in Northern Ireland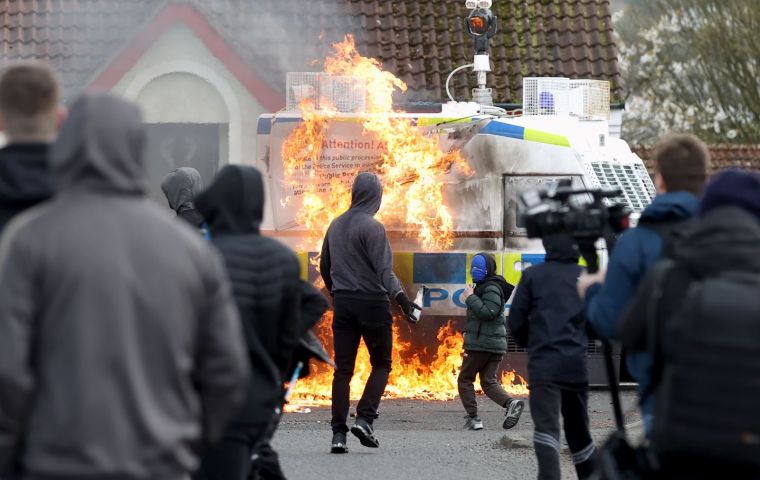 A police vehicle in Londonderry, Northern Ireland was attacked with Molotov bombs and set on fire on Monday, that is a day before US president Joe Biden arrives in Belfast for a visit of the country and the Republic.
A media photograph showed four young people in the mainly Irish nationalist area of Creggan in Derry, throwing petrol bombs at an armored police vehicle, which was covered in flames on one side.
The crowd dispersed shortly afterwards, and police said nobody was injured.
"What we saw develop this afternoon in Creggan was incredibly disheartening," said Derry City & Strabane Area Chief Superintendent Commander Nigel Goddard. "This was a senseless and reckless attack on our officers who were in attendance in the area in order to comply with our legal duties," he added.
Nationalists tend to favor using the name Derry, while unionists are more likely to use Londonderry for Northern Ireland's second largest city. Legally, the city and county are called "Londonderry" while the local government district containing the city is called "Derry City and Strabane."
On Monday, Northern Ireland commemorated the 25th anniversary of the end of the Troubles,— the nationalist religious conflict that lasted about 30 years until the Good Friday Agreement of April 10, 1998.
The anniversary of the accord fell on Easter Monday, which is a traditional day of protest for the Republican camp based on the Easter Rising of 1916, with which Republicans wanted to gain Ireland's independence from Great Britain.
Some 3,700 people were killed during three decades of sectarian strife between Catholics and Protestants, plus involving the British Army and the urban guerrilla IRA, (Irish Republican Army)
Biden is due to arrive in Northern Ireland's capital this Tuesday and make an address at a Belfast University on Wednesday before traveling to Ireland for a further three days. President Biden, of Irish descent is considered one of the most "Irish" US presidents. The Good Friday agreement was worked out by London, Dublin, and mainly the United States.