Paraguay's ruling party reported to have campaign financing problems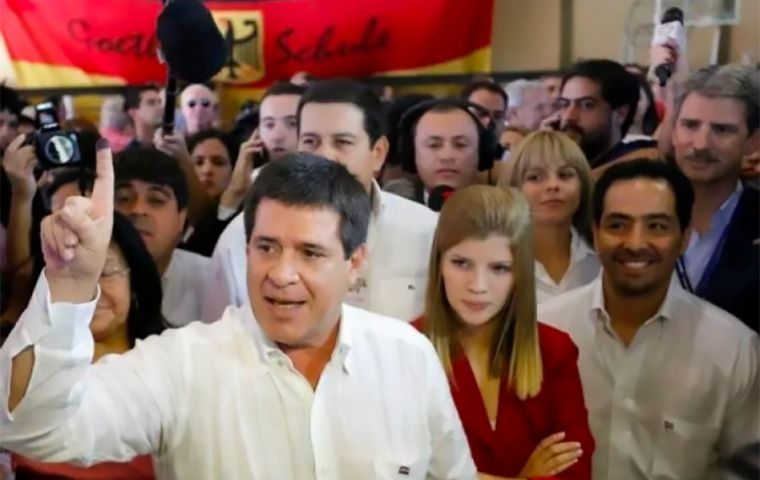 Less than three weeks before the April 30 presidential elections in Paraguay, the ruling National Republican Association (ANR), also known as the Colorado Party, continues to face serious financing problems stemming from Party Chairman Horacio Cartes having been declared significantly corrupt by the United States, which renders him non-eligible for many banks to sign loan agreements.
In this scenario, Banco Continental would lend the ANR ₲ 17 billion (around US$ 2,370,776), it was announced Tuesday in Asunción. However, the amount was ₲ 20 billion less than foreseen, according to party sources.
Former Paraguayan President Cartes was forced to let other party authorities such as vice chairmen Rodolfo Friedmann and Juan Carlos Galaverna do the negotiating and signing.
The details of the loan and the other party resources, such as bonds, contributions, and electoral subsidies, will be disclosed by the party's Governing Board later this week, according to ABC Color.
Banco Continental has already worked with the ANR in previous elections.
Former Party Chairman Pedro Alliana said the ANR already has ₲ 14 billion in cash and, with the possible issuance of bonds plus electoral subsidies, there would be enough funding for the campaign without borrowing from a bank because he was very cautious with the management of the party resources during his administration.
"I prefer that bonds be given, but if the decision is to remove credits, I respect, the resources are already there, the people who are going to buy the bonds we also already have," Alliana said in a radio interview.