More killings in eastern Congo; Uruguay might withdraw its member of UN peace keeping forces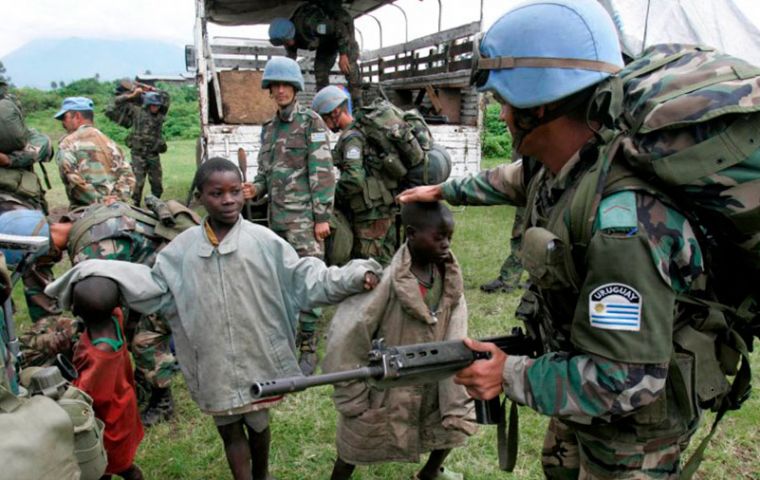 Dozens of people were killed in attacks on villages in the northeastern Democratic Republic of Congo, a civil society organization said Saturday. Local sources blamed the attacks on the CODECO militants, saying they attacked at least three villages, around 60 kilometers from the provincial capital of Bunia.
The Ituri province is just north of Kiyu province and the capital Goma where UN peace keeping forces are stationed, including a contingent of Uruguayan sky-blue berets. The area is next to the Uganda and Rwanda borders.
Although the Uruguayan army reported no attacks on its troops, the Uruguayan government has been thinking of withdrawing forces given the endemic recurrence of violent incidents, with the occasional attacks on UN patrols.
"They burned down several homes. There are also seven people wounded," said Dieudonne Lossa, the president of the organization in Banyari Kilo, the area in Ituri province where the attacks took place.
A regional administrator, Innocent Matukadala, said CODECO rebels had arrived at around 0500 local time/GMT on Friday, with the Congolese army responding around three hours later. He put the death toll at 42.
The army confirmed the attack to local media and said it was searching for the perpetrators. CODECO, the Cooperative for the Development of the Congo, is one of the myriad armed groups operating in the restive mineral-rich region.
It was started as an agricultural cooperative in 1970s to protect the interests of the local Lendu community. During the Ituri war (1999-2003), however, it transformed into an armed militia that claims to protect the Lendu from another local ethnic group, the Hema, and the army.
Fighting between CODECO and Zaire, a mainly ethnic Hema self-defense group, has been ongoing since 2017 but worsened recently. In February, CODECO fighters killed at least 32 civilians, local officials said.
In December, the UN said the insurgent group was expanding its areas of control, attacking civilians and members of Congo's military, and taxing communities in the areas that it holds.
Eastern Congo is plagued by dozens of armed militias, many of which are a legacy of regional wars that flared in the 1990s and 2000s. Most of the groups are fighting for land and control of mines with valuable minerals, while others are trying to protect their communities.
Ituri province is one of the violence hotspots, where attacks claiming dozens of lives are routine.
The government declared a state of siege in Ituri and neighboring North Kivu province in 2021, in an attempt to stem rampant militia violence. But the killings and rebel activity have not shown any sign of abating.