The "next Steve Jobs" and self made billionaire, Elizabeth Holmes to prison for fraud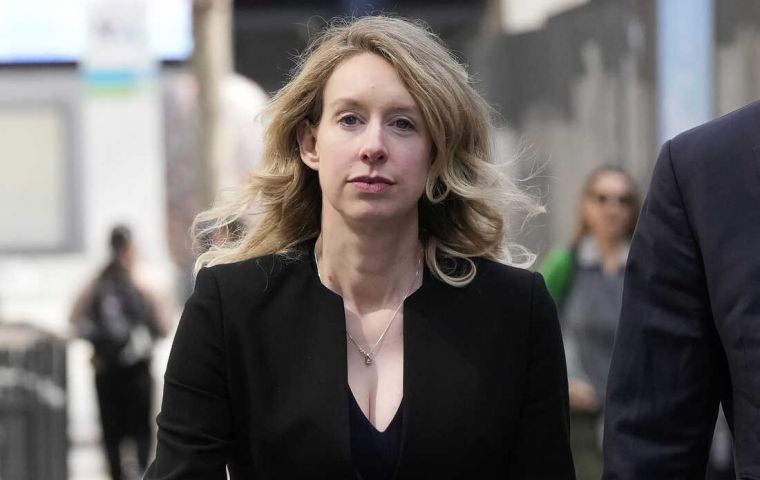 Theranos founder Elizabeth Holmes was once hailed as the "next Steve Jobs", said to be the world's youngest self-made billionaire and the darling of the US corporations world. The former Silicon Valley star falsely claimed the technology could diagnose disease with just a few drops of blood. Her company at the peak of her market aura was valued at almost ten billion US dollars.
She launched Theranos after dropping out of Stanford University, but the start-up fell apart in 2018 after it was revealed its technology did not work. The blood-testing device was purported to be able to run a multitude of tests from just a few drops of blood.
The company's infamous downfall was chronicled in a TV series, an HBO documentary and a podcast.
Finally Holmes was sentenced to over 11 years in prison for defrauding investors in her blood testing start-up. A federal judge said Holmes failed to prove her appeals process would lead to a reversal of her case. She is scheduled to go to prison on 27 April.
When Holmes was found guilty of four counts of fraud last January, she told the court at the time she felt "deep pain" for those misled by the scam.
However Holmes had said she would raise "substantial questions" that could warrant a new trial. Her attorneys also argued she should remain free to care for her two young children, including one who was born this year.
But US District Judge Edward Davila said Holmes had not proven her appeal would result in a new trial.
"Contrary to her suggestion that accuracy and reliability were central issues to her convictions, Ms Holmes's misrepresentations to Theranos investors involved more than just whether Theranos technology worked as promised," he said.
Prosecutors, meanwhile, had argued Holmes was a flight risk because she had booked a one-way plane ticket to Mexico during her trial. Homes' attorneys said she and her partner Billy Evans were planning to attend a wedding and hoped she would be acquitted.
The ticket purchase was "ill-advised", Judge Davila wrote in his ruling, though he added it did not constitute an attempt to flee.
Holmes' former business partner, Sunny Balwani, was sentenced to nearly 13 years in prison for fraud last year.