Ukraine war: Russia praises Brazil's pro peace position but is scolded by United States
Tuesday, April 18th 2023 - 06:33 UTC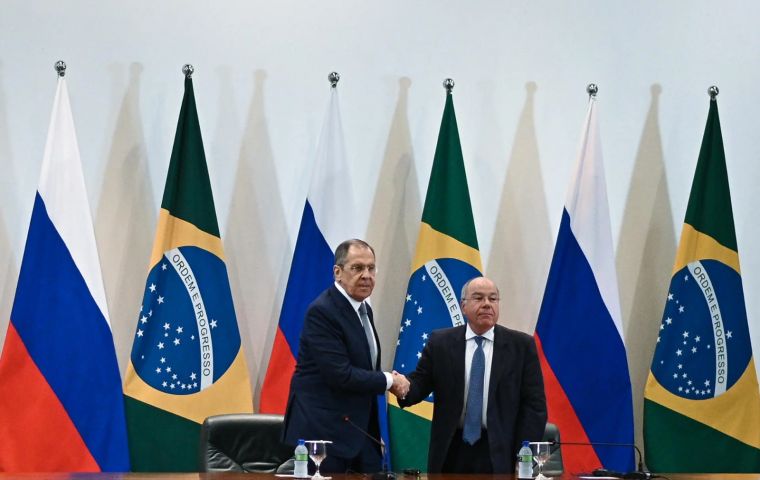 Russian foreign minister Sergey Lavrov arrived in Brasilia on Monday, where he discussed issues such as trade and Russia's war in Ukraine with members of Lula's administration.
"We are grateful to our Brazilian friends for their clear understanding of the genesis of the situation [in Ukraine]. We are grateful for their desire to contribute to finding ways of settling this situation," Lavrov told reporters after a meeting with Brazilian Foreign Minister Mauro Vieira.
Seeking to capitalize on Brazil's tradition of non-intervention and open diplomacy, Lula has pitched himself as a broker for peace talks to end the Ukraine conflict.
But Lula has upset Washington and others stating that several parties are at fault for the war in Ukraine and that the US has "encouraged" the war by sending weapons to the administration of Ukrainian President Volodymyr Zelenskyy, echoing the positions taken by Moscow and Beijing.
On Monday, White House National Security spokesperson John Kirby called 77-year-old's Lula's comments "simply misguided".
In Brasilia, a handful of protesters held banners condemning Lavrov's visit and Russia's invasion.
Lula's stance has underscored a split between Ukraine's largely Western allies and other countries who do not want to choose between relations with Russia and the US, and have refused to distance themselves from Moscow.
Since the invasion of Ukraine, the United Nations General Assembly (UNGA) voted on a several resolutions to address the violence, including a call for Russia to withdraw its military and a resolution to condemn the annexation of territory.
But some of the world's most populous countries — including China, India and Brazil — have abstained from voting in some cases. On 7 April 2022, when the General Assembly passed a resolution to suspend Russia from the UN Human Rights Council, with 93 votes in favor, but 58 countries abstained and another 24 voted against the proposal with Brazil among the abstentions.
States like Brazil have also baulked at calls to provide Ukraine with military assistance or cut off trade with Russia.
On Monday, Lavrov and Vieira discussed plans to increase Brazilian meat exports to Russia and fertilizer imports for Brazilian farmers.
After his recent visit to China, Lula told journalists Brazil was "trying to build a group of countries without any involvement in the war, that don't want the war and defend world peace to have a discussion with both Russia and Ukraine," and openly accused the US of "encouraging the war in Ukraine".
Western countries have been irked by such comments, which they see as a refusal to condemn Russia's clear violation of international law.
"In this case, Brazil is parroting Russian and Chinese propaganda without at all looking at the facts," US National Security Council spokesperson John Kirby on Monday, dismissed Lula's recent comments as "deeply problematic".