What triggered a new "blue" dollar rise in Argentina?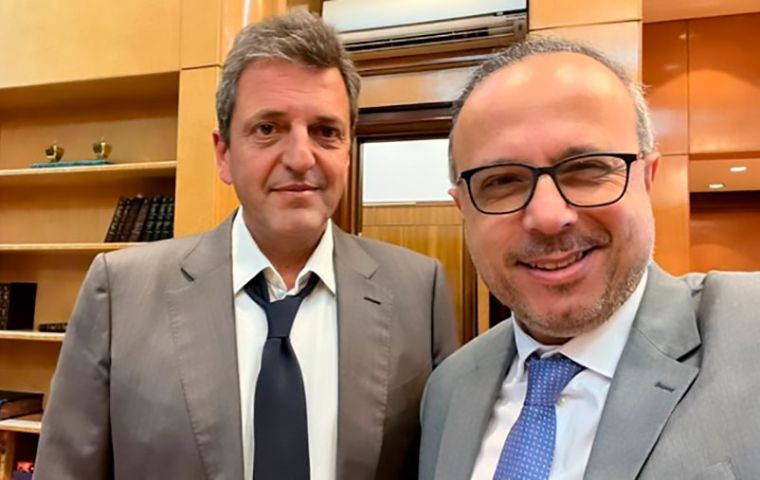 Rumors about Economy Minister Sergio Massa's possible resignation, the "blue" (a euphemism for "black market") US dollar rose again Tuesday against the Argentine peso. President Alberto Fernández was reported to have a name to replace Massa: that of his Chief Advisor Antonio Aracre, who turned in his resignation Tuesday afternoon in a move to appease the markets.
In this scenario, the "blue" dollar traded at AR$ 421 Tuesday before closing the day at AR$ 418, it was reported in Buenos Aires.
"As a result of the rumors that have been circulating since last night and in order to deactivate any operation aimed at unsettling the markets, I have submitted to President Alberto Fernández my resignation as Chief of Advisors immediately," Aracre tweeted.
The new increase in the price of the unofficial dollar meant a 2.45% increase, after another 2% the previous day. With the new value of the currency in the informal segment, the exchange difference with respect to the official quotation reached 92.7%.
The new increase was a response to the shortage of supply and to a growing demand for hedging. "The market is without sellers", said a trader quoted by local media, who also pointed out that "the economic situation is complex and people do not want to keep pesos in their pockets."
So far in 2023, the blue dollar accumulates a rise of AR$72 (+20.8%) after closing 2022 at AR$346. In January, the informal dollar advanced $35 (+10.1%), while in February it dropped AR$6 (-1.6%). But in March it rose AR$20 (+5.3%). In 2022, it grew by AR$138 (+66.4%) after closing 2021 at $208. It was nevertheless a sharp loss against the yearly inflation above 100%.