1435 Flight Typhoons primary role is 24/7 Air Defense and QRA of the Falklands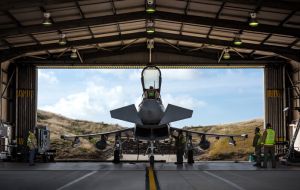 If you live on the Falkland Islands, you will be lucky enough to see the FGR4 Typhoons regularly grace the skies with their presence. A team of highly skilled and hardworking engineers ensure that the jets are well maintained and ready to provide Quick Reaction Alert (QRA) should it be required.
WO Eaton, Warrant Officer 1435 Flt, who is responsible for airworthiness management of the Typhoon aircraft, workforce planning and the welfare, discipline and standards of all personnel, reflects on the efforts of his team: "It is great to see the whole team pull together to make sure our jets are able to launch. Seeing the aircraft in the sky, either individually or in formation, always gives everyone a sense of pride in a job well-done".
Who are 1435 Flt? At any one time, 1435 Flight consists of numerous engineers, support staff and pilots, who maintain and fly the Typhoon FGR4 aircraft. Their primary role is Air Defense and QRA, much like in the UK. They are poised 24/7 to intercept any unidentified aircraft around the Falkland Islands, a role the flight has been undertaking at MPC since 1986 with Phantoms, then Tornado F3, and now Typhoon. All the personnel are deployed here individually from Typhoon squadrons at RAF Lossiemouth and Coningsby and spend between 6 weeks and four months here depending on their role.
Engineers and pilots are well used to routinely deploying around the world. The UK Typhoon force is very busy, with almost all of the Flight having served on Ops in Cyprus, Romania, Estonia, Iceland, as well as exercises all over the globe, in addition to most having deployed to MPC before.
Chief Tech Clarke, Aircraft Rectification Controller, is responsible for managing and controlling all engineering work carried out on the 1435 Flt Typhoon aircraft, as well as planning and allocating workforce for the shifts and QRA. He says: "the pace of life in the Falklands is slightly slower than back in the UK, with fewer of the pressures of life and less need to meet dynamic operational flying programmes. Operating in the Falklands brings its own challenges with logistics and communications, however, the islands are beautiful and deploying here gives us the opportunity to explore and meet new and interesting people".
How does flying in the Falklands compare with flying back in the UK?
Sqn Ldr Murphy – Pilot & OC 1435 Flt, highlights the unique nature of operations in the Falklands: "The daily flying here provides us with great training opportunities that we don't often experience in the UK. Intercepting the various aircraft of MPC and the Islands keeps the QRA skills sharp. Having a dedicated Voyager tanker is real bonus too, extending the time we are airborne and able to defend the Islands if required".