Argentina: Ruling coalition welcomes President Fernández's announcement
Saturday, April 22nd 2023 - 10:55 UTC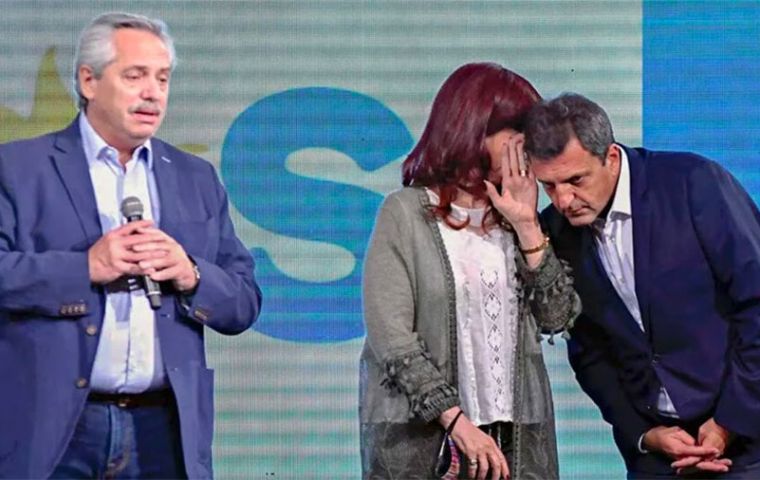 Argentine President Alberto Fernández's announcement that he would not seek reelection was welcomed within the ruling Frente de Todos (FdT) coalition, which now has the opportunity to submit several candidacies to be decided upon at the Aug. 13 Open, Mandatory and Simultaneous Primary (PASO) elections.
Former Vice President and presidential hopeful Daniel Scioli, who has already admitted he would make a new attempt to reach Casa Rosada, praised Fernández's decision: "My recognition to the courage of @alferdez who faced unimaginable adversities, who never made a decision against the Argentine people and this is one more proof of that," he wrote on Twitter.
Read also: Argentine President Fernández won't seek another term: "We did not achieve everything"
"It is time, also as the President says, to commit ourselves to the unity of Peronism prioritizing the needs of the people in an internal democratic process that strengthens not only our space but also democracy," he added.
Economy Minister Sergio Massa, another likely contender for the chief post at Balcarce 50, said Fernández's message "shows his generosity and leaves a mark going forward. Responsibility and unity is the way," he also published on social media. "He never made a decision against the Argentine people and this is one more proof of that."
According to Buenos Aires analysts, President Fernández's move proved he bowed to pressure from Vice-President Cristina Fernández de Kirchner (CFK) and also from Massa, with whom he met Thursday at the Olivos residence to convey a sense of unity to try to appease the plummetting of the Argentine peso against the US "blue" (a euphemism for "black market") dollar.
CFK's inner circle, meanwhile, said Fernández's decision "oxygenates the Frente de Todos" but regretted it was a "late" announcement, which will nevertheless clear the way "to begin to put Peronism in order." Deputy Máximo Kirchner had insisted it was not possible to plan FdT's strategy for the PASO if the head of state did not get out of the way.
Interior Minister Eduardo "Wado" de Pedro, a hardline Kirchnerite who is also among those regarded as a possible candidate despite his stammer, said the President's decision helps give Peronism its vitality back "and to dream again."
Máximo Kirchner's La Cámpora movement plans to differentiate itself from the Albertismo's "indefinition, [that ] prevented other leaders from showing themselves more, it blocked the FDT," it was reported.
For La Cámpora, the FdT remains a competitive political force despite the current crisis, but it was necessary for Alberto Fernández "to step aside." It is also no secret that what this group wants is for CFK to announce her own candidacy.
Anyway, a political analyst consulted by MercoPress underlined that "Alberto Fernández will not seek reelection as President, but at no time did he mention he might not run as somebody else's mate."