Worldwide military expenditure increased 3,7% in 2022, SIPRI report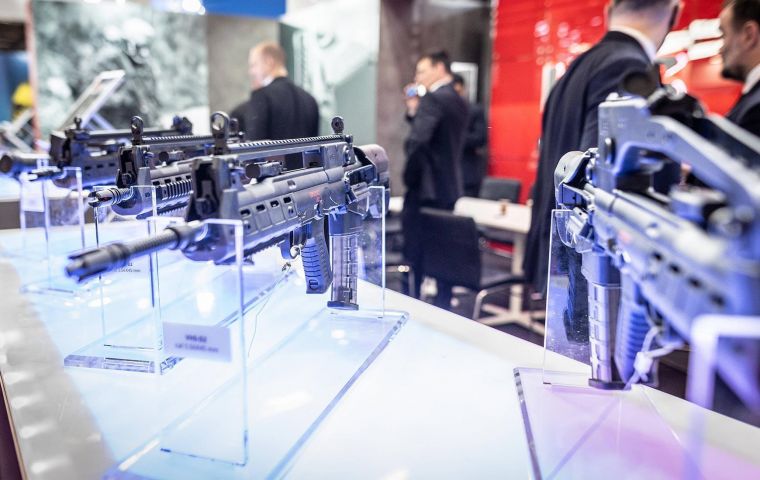 The Stockholm International Peace Research Institute (SIPRI), a leading global security think tank, reported that countries around the world are spending record amounts of money in defense budgets. Some of the reasons for this new trend, inflation, the war in Ukraine, US efforts to outpace China.
For 2022, researchers recorded a year-on-year jump of 3.7% in worldwide military expenditure. That marks an all-time high and follows several years of continuously higher spending.
"Irrespective of whether economies are doing better or worse than expected, the military is taking up more financial resources than in previous years, or previously ever in history," Nan Tian, a senior researcher at SIPRI who helped author the report, told DW.
For those who follow world events, the doubling down on defense likely comes as no surprise. The war in Ukraine and Russia's all out attacks, have led European countries in particular to pay renewed attention to their military budgets. Ever since the first Russian missiles struck Ukrainian cities in late February 2022, country after country has announced new spending.
Defense outlays among NATO members — the Euro-Atlantic military alliance incorporating most European countries — have been going up since at least 2014. That's when Russia initially attacked Ukraine, illegally annexing the Crimean Peninsula and backing separatists in the eastern part of the country. NATO members agreed to meet a defense spending goal of 2% of national GDP by 2024, and many have been slowly working toward that target.
The Russian threat that all this money is meant to counter, however, has not materialized as frightfully as first imagined. The fact that Ukraine has so far managed to counter the Russian forces, which are theoretically superior, and hem them into a corner of the country has cast serious doubt on a broader danger to the rest of Europe.1
Still, money for new military kit and other defense-related spending keeps pouring in. Russia may be a flop on the battlefield, Nan Tian said, but it could still be a potent adversary in cyberspace. Attacks on digital infrastructure can be low-cost, but high-damage.
And, of course, Russia maintains a considerable nuclear arsenal.
"For a lot of European countries, it's really about how to beef up all aspects of defense," he said. "The higher military spending is a sign of deterrence to Russia."
While actual spending is up, topping a combined US$2.2 trillion (€2 trillion) in 2022, as a share of GDP it is 0.1% lower than it was in 2013. That is despite double-digit increases over the past decade across many countries, including nuclear powers and those known for prioritizing armed forces, such as China (63%), India (47%) and Israel (26%).
In each of these countries, however, defense spending has declined as a percentage of national economic output.
The discrepancy suggests economic expansion has outpaced national budgets in areas such as defense, even if dollar figures can appear eye-popping; and rapid, record inflation has forced governments to spend more just to keep up.
In other words, they have lost purchasing power. A defense ministry faces similar price pressures when shopping for a squadron of fighter jets that a normal household does for buying a carton of eggs. Countries looking not just to maintain, but grow or upgrade their militaries, have to spend even more, which has been reflected in SIPRI's reporting.
"Despite countries having increased spending by 15%, in nominal terms, once you adjust for inflation, they actually decrease," Nan Tian said, giving a ballpark example.
Inflation has also been a political problem, particularly in Germany, which early last year pledged an additional €100 billion for its armed forces in response to Russian aggression. After years of facing criticism for not spending enough, higher prices have muted its efforts to finally do so.
The additional sum, which comes on top of Germany's regular defense budget, is not reflected in the SIPRI data because none of it was ready to be spent last year. Even when the funds do start flowing, Germany may still fall short of NATO's goals, according to an analysis by the German Economic Institute at the end of 2022.