Presidents of Brazil, Argentina discuss Unasur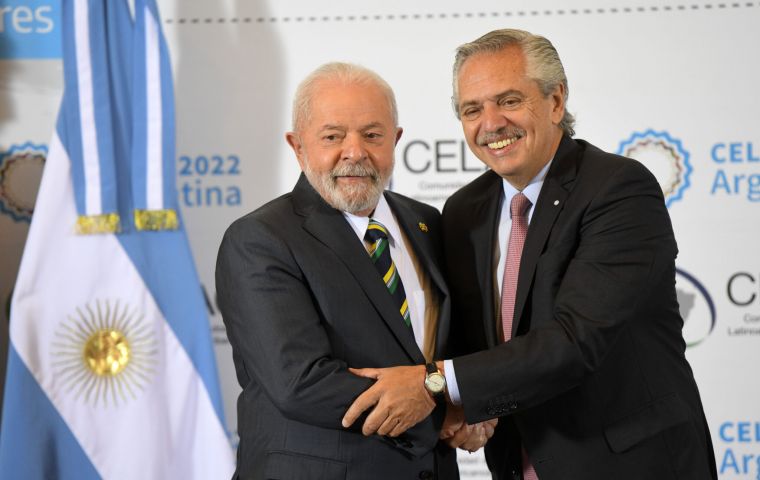 Presidents Luiz Inácio Lula da Silva of Brazil and Alberto Fernández of Argentina held a virtual conference Thursday during which they discussed the return of their countries to the South American Union of Nations (Unasur) and other bilateral issues.
"Back in Brazil, today [from Portugal and Spain] I called my friend and president of Argentina @alferdez. We talked about Unasur, fraternal relations in our continent, and the deepening of trade between our countries," Lula said on Twitter.
Both leaders reviewed "the evolution of bilateral trade and progress in the implementation of cooperation agreements signed in recent months," according to a Casa Rosada statement. These agreements cover the economic and financial, defense, health and science, technology and innovation areas, "within the framework of the relaunching of the strategic alliance between both nations," the communiqué also read.
In their 45-minute conversation, Lula and Fernández spoke about the role of Unasur and stressed the importance of deepening "the bonds of fraternity and bilateral trade."
Earlier this month, Lula da Silva made official Brazil's return to Unasur, a bloc founded in 2008 during the heyday of leftist governments in the continent. In 2019, the Brazilian government of then-President Jair Bolsonaro made Brazil's exit from the bloc official by presidential decree, without going through Congress. Argentina also recently announced its return to Unasur, currently made up of Bolivia, Guyana, Suriname, and Venezuela, in addition to the suspended Peru.