DeSantis may remain Fla. Gov. during presidential campaign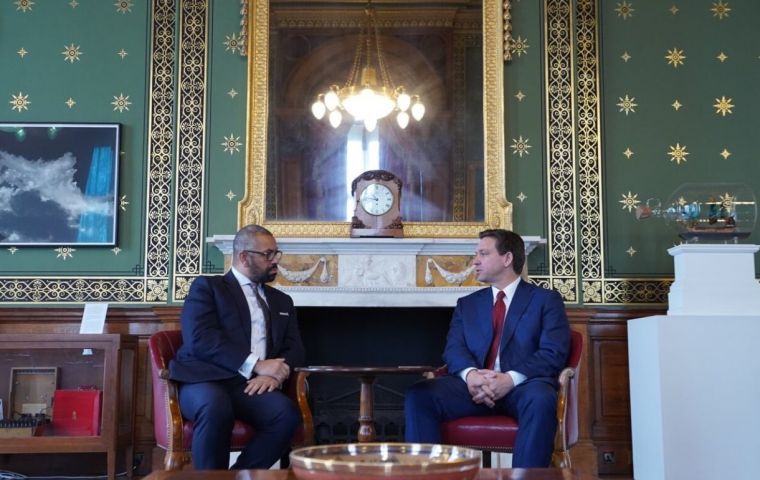 The US State of Florida Friday passed an amendment to the current election law which would allow Republican Governor Ron DeSantis to remain in office while running for President next year. As per the previous Florida law, anyone running for another office needed to step down from their current position. The new bill creates an exception for state officials running for President or Vice President.
The law passed the House 76-34 on a party-line vote on Friday after passing the state Senate also along party lines on Wednesday, 28-12. The bill now heads to DeSantis' desk for his signature.
DeSantis, who has not announced yet whether he would be running, met last week with British Foreign Secretary James Cleverly in London to discuss Florida's business relationship with the United Kingdom, one of Florida's most significant economic partners and the top foreign investor in the state.
"The United Kingdom has long been a strong partner of the United States," said DeSantis. "Florida will continue to work with our friends here in the United Kingdom to maintain a strong relationship that benefits the economic interests of both Florida and the United Kingdom."
The United Kingdom (UK) is one of Florida's most significant economic partners and Florida ranks among the top American states for British businesses and tourists. British companies account for more than 70,000 jobs in Florida, making the UK the top foreign investor in Florida. Each year, Florida companies supply a wide range of products to the UK including aviation and aerospace products.
British affiliates are estimated to have had total holdings of more than US$ 18 billion in Florida with more than 350 companies that employ 67,000 people. The UK is Florida's 8th largest trade partner with bilateral trade reaching US$ 5.8 billion in 2022, with bilateral trade growing by 119% over the last five years.
Florida also has a strong tourism relationship with the UK. In 2022, more than 1.1 million Brits visited Florida from the UK. The UK consistently ranks as the 2nd largest group of international visitors to Florida on an annual basis. There are more than 79,000 British born residents in Florida. The State has nine direct flights to England and Scotland from three major airports.