Uruguayans flock to Argentina due to the convenient exchange rate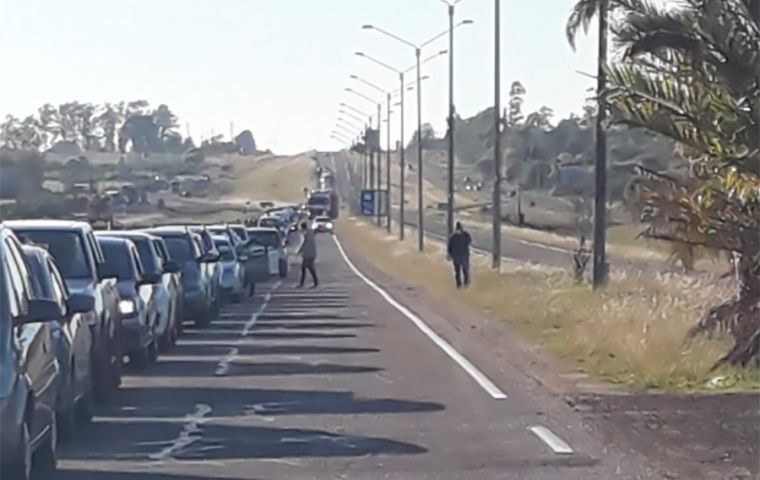 Uruguayan drivers stayed in line for up to 7 kilometers Saturday trying to cross to Argentina for the long Labor Day weekend to capitalize on the favorable exchange rate, it was reported.
Migration Secretary Eduardo Mata mentioned the issue on his Twitter account and reminded his fellow Uruguayans to have their travel documents ready, particularly people driving with children because it was up to the Argentine authorities to decide who gets through.
"In view of this situation, it is reiterated that this control is the exclusive competence of the authorities of the neighboring country", Mata wrote. "The family link must be accredited with the identity documents and birth certificate or passport, or in its absence [with] the minor's [travel] permit," he insisted.
Meanwhile, on the Argentine side in the province of Entre Ríos, residents denounced that some 2,000 Uruguayan families had rented permanent homes in cities like Gualeguaychú, thus affecting the real estate market, driving prices upwards and leaving people with no place to live.
In addition to that, landlords prefer to rent their properties to weekend travelers at a higher price, which also deepened the crisis. More and more Uruguayans no longer "cross the pond" to just do their shopping. Those who can work virtually are settling in Argentine to make the most of their hard currency incomes.
Infobae reported on the case of one Gualeguaychú resident who was unable to find a place to live and had to stay in his car for months. Similar episodes were said to have happened in other Uruguay-bordering cities such as Concordia and Colón.
From Gualeguaychú to Fray Bentos and Las Cañas, it takes less than an hour by car. The same to get to Concordia from Salto. From Colón to Paysandú, the nearest Uruguayan city, it takes only 35 minutes.
Other Uruguayans have enrolled for courses at the university in Concepción del Uruguay, Infobae also said.
"What is happening in the border area is something unusual," Paula Armandola, president of the Association of Public Real Estate Brokers of Entre Ríos, told Infobae. "We have not experienced this before and there are cities in our province where the supply of housing is almost zero for rentals that must be governed by the current Rental Act," she pointed out.