Stanley's Bennett's Paddock: Explosive Ordnance Adviser works completed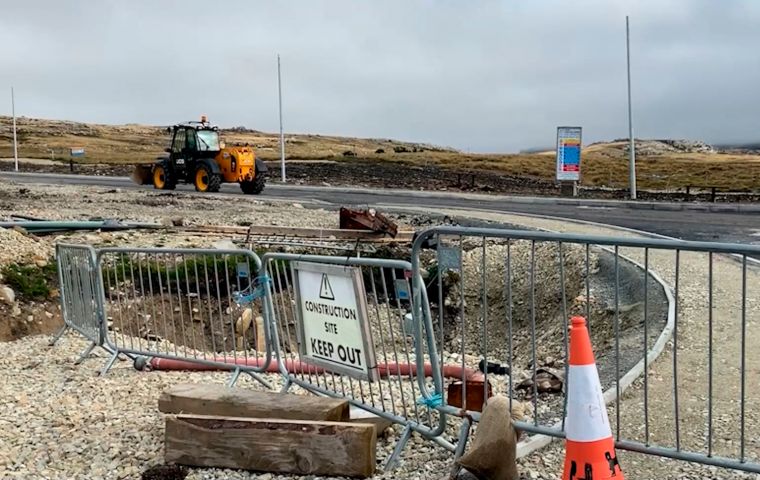 The Falkland Islands Government has announced that the works at Bennett's Paddock by the Explosive Ordnance Disposal (EOD) Adviser, Guy Marot OBE and the team have now been completed.
Work on searching the Bennett's Paddock ground was from Wednesday 22 March to Thursday 27 April, during that time ten artillery munitions and numerous small arms ammunition were discovered from the various points of interest identified for the work. The team worked alongside the EOD section of BFSAI for the safe disposal of ordnance recovered.
Two on-Island workers were identified to assist Guy in his work, and will be able to provide local support if any further munitions are discovered. They will remain in contact with the EOD section of BFSAI during the continued development of Bennett's Paddock.
This means that those who have been allocated building plots but have been unable to commence works, will now be able to do so, subject to receipt of their building license. Case Work Manager, Roxi Crowie, will be happy to respond to any queries in respect of the process, and a detailed Q&A session has been arranged for those who have been allocated plots for development.
Chair of the Legislative Assembly, MLA Gavin Short said: "The elected members and I, alongside the Falkland Islands Government, would like to thank Guy Marot and Fenix Insight Limited for their support throughout this project. We would also like to thank Kurt Whitney and Peter Betts, the two on-Island workers for their work before and during Guy's arrival, their support I am sure has been hugely helpful to the team and the experiences that they have had with Guy has further developed their knowledge. The completion of this work enables the government to reduce the risks Explosive Ordnance pose to housing development in Stanley, and provides reassurance for landowners that they will be able to develop their land safely."