Chile: Boric enacts new anti-drug trafficking law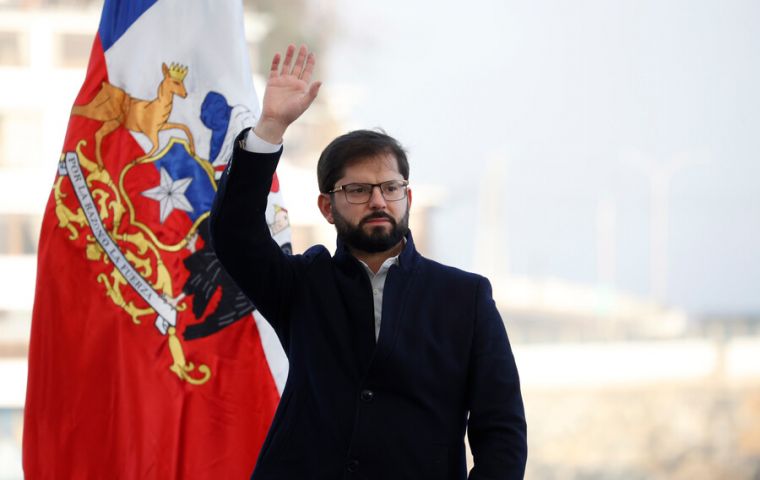 Chilean President Gabriel Boric Font Tuesday signed into law the Anti-Drug Trafficking Bill changing the penal code for drug traffickers and tackling the money trail behind these operations.
"Chile will finally have a law that strengthens the prosecution of drug trafficking and organized crime, preventing these organizations and their members from enriching themselves through the commission of crimes and this law is a very important step in that direction," Boric said.
"This law strengthens the persecution of the money trail behind drug trafficking and organized crime, incorporating the control of suspicious activities to new areas that were not considered before, also taking into account the evolution of crime," he added.
"This law allows [marijuana] cultivation for the treatment of diseases. It is important: those people are not criminals, as long as this is for personal use, indicated by a doctor and under a prescription," Boric insisted.
"Our objective is also to strike very hard, and let them know it, against organized crime, and to recover each of the neighborhoods of our homeland that have been taken over by drug traffickers," he also pointed out. "We are going to stop the increase in homicides that has been registered in our country for several years," he said.
Boric also took the opportunity to send a political message about the defeat suffered by the Government in last Sunday's election of constitutional councilors. "Our Government has had and will continue to have a very clear work agenda defined by the needs of the people and, by the commitments we acquired with the country for which we are governing," he said.
The Anti-Drug Trafficking Law enacted by Boric establishes penalties of between five and 15 years in prison for those who administer illicit substances to others without their consent. The most severe penalties apply if violence or intimidation is used.
On the other hand, those who supply products containing solvents or inhalant gases, capable of causing damage to health or physical or psychological dependence to minors under 18 years of age, risk sentences of three to 10 years in prison.
In addition, it allows drug proceeds to be used to strengthen police investigation and prosecution. The Financial Analysis Unit will be able to supervise new types of companies: purchase and sale of cars, jewelry, and horses among other activities.