7 Best Footballers Of All Time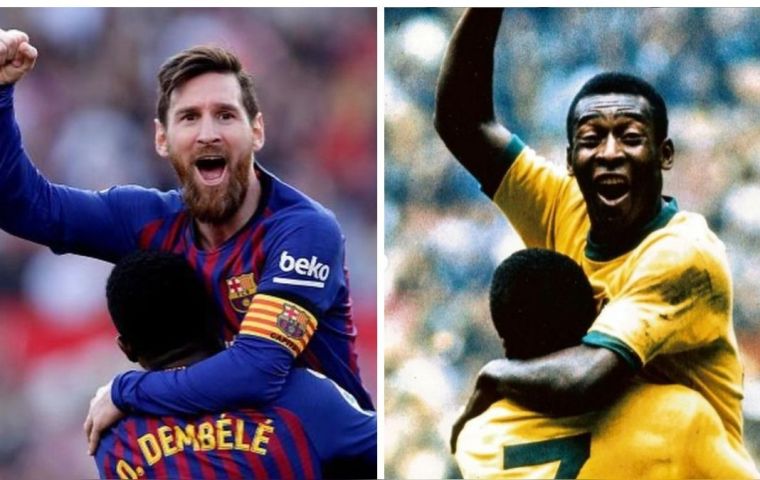 The most popular sport for betting across the entire world is football, but, is it astounding, football is massively popular in almost every country across the world?
Football odds and money lines are highly popular, and since it is so popular, everyone has their favourite players.
It is a bit of an understatement, however, to suggest that picking the best players would be easy. If you wanted to compare a player from the 80s to a player from today, it would be hard, the game has evolved, and player popularity has become a big deal.
But, we will do our best to fill you in on who the true greats are, based on talent, and game ability. So, knowing this, we are certain you will be able to guess who number 1 is!
#1. Lionel Messi
There is so much to say about Messi and so little time. But, let's talk about his stats. He has shot 791 goals and made 350 assists in only 1,002 games for his country and club. This averages at being 72 minutes per goal contribution, over 18 years of playing!
So, many great players are figured out, enjoy a few seasons, and then they're neutralised, but this never happened to Messi. He was constantly adapting, primarily to accommodate his slow deceleration, but he always stayed the same at his core.
His touch was awesome to say the very least, he always applied the perfect weight to every delicate tap, the ball tends to stick to his feet, and his measured ability to pass is something of a legend.
#2. Maradona
It is rare that a player such as Maradona appears and is treated like a god on both sides of the Atlantic. Maradona forward boasted a low centre of gravity and an incredible technical ability that saw it drift past other players incredibly.
His intensity and running ability has made him something of a menace for anyone on the opposing team. He struck fear into the hearts of his opponents, but his teammates would feel emboldened and raise their level like he was a fearless general in an army.
#3. Ronaldo
To completely appreciate Ronaldo's true greatness you need to try and ignore the 2022 antics. Overall, once his career ended, he would have done more than simply gained the title of one of the greats.
While stats aren't the end-all-be-all of an athlete's career, and trophies aren't always significant, they are very important in his career and speak for his true talent. He has lit up the Premier League, Serie A, and La Liga, with a domestic title in each nation, as well as a cup trophy.
With 5 Champions League titles in 2 teams, and having lifted the European Championship Trophy, little else needs to be said.
#4. Pele
Brazilian football is 100% geared towards Pele. All current Brazilian footballers who do well, do so because Pele has done before, and they have modelled their successes off of him. He is the best player on the international stage with an impressive 77 goals for Brazil in 92 games.
He also has 3 World Cups to his name. His records are impressive, and his skills are without a doubt some of the most revered.
#5. Zinedine Zidane
Ronaldo might be the ultimate striker, but Zidane is the ultimate midfielder. He had an unreal level of ability in a technical sense, with incredible elegance and grace, the kind you would not expect from a 6ft1 man.
His touch was delicate, with mesmerising control over the ball, and his ability to shift through gears and convert innocuous receptions through the field was amazing. All these traits in him are repeated by players and aspiring footballers today.
#6. Johan Cruyff
Cruyff was a conductor of the Total Football concept. He started his career scoring 257 goals in 329 games. However, he always felt most other players were more gifted, fitter, and stronger, but his success in the game boiled down to tactical design.
He loved to win but wanted to ensure he won 'right', which makes him not only a great player but very inspirational.
#7. Franz Beckenbauer
Beckenbauer had incredible quality, and versatility when it came to playing in a wide range of positions, making him an easy choice for your 7th best pick. He started as a midfielder before he dropped into defence, inventing the sweeper role.
He was around in a time of no-nonsense defending, and burly centre-backs, and he was something of a revelation when the ball was before his feet, He was comfortable with the ball, and he was almost like a box-to-box midfielder when he was in centre-back with the ball.
He was ahead of his time, and even today we know he would be sought after as a defender.
Overall
All of these players would have changed the latest football betting odds today. However, they are legends of the game, and we love them for it. They make football what it is, and remind us that it is a game of talent.