Chile denounces Argentina drying up binational river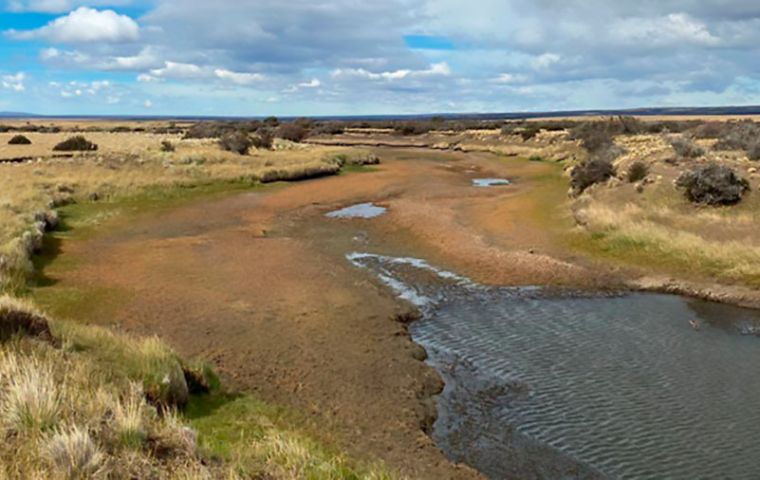 Following complaints by Chilean ranchers, Santiago sent a note to Argentina for works that dried up the Vizcachas, a transboundary river originating in southeast Santa Cruz and reaching Magallanes. The land owners claim that the binational watercourse has suddenly dried up and denounce that it is due to works carried out on the Argentine side.
The note asks for background information to explain the anomalous situation, which originates in the streams that flow down from the Sierra de los Baguales and flows southeast and south, before turning west and reaching the border. It flows along the international boundary between milestones 70 and 71 and joins the Serrano River, already on the Chilean side, which flows into the Pacific Ocean.
The diplomatic episode began last February when Chilean cattle ranchers denounced before the Chilean Foreign Ministry the striking situation. According to El Mercurio, the river dried up for the first time in history.
"Specifically, there are at least six works that completely divert the waters dozens of kilometers away from their natural course," the submission stated. The Environmental Treaty and the protocol on water resources would be violated.
In late March, personnel from the Directorate of Borders and Limits went to the area and found that "the fact that the Vizcachas River has dried up completely is not due to natural causes and can only be attributed to the intervention of its course in Argentine territory."
Another document also warns of the "notorious decrease" in the riverbed and flow of the river and describes the situation as "serious", since "it is due to interventions by third parties at more than one point of the riverbed, which are located on part of the route through Argentina, and before entering Chile."
They denounce that the dry riverbed caused "damage to the estancia and its owners," since it prevented them from offering fishing services, and also caused damage to the fauna, which threatens to produce "irreparable environmental damage".
Although the water flow has started recovering, it has not yet reached the usual levels for this time of the year, so Chilean authorities suspect that the works on the Argentine side are continuing.
A report of the National Glacier Inventory, carried out by the Argentine Government in 2018, indicates that the average flow of the Vizcachas River is 3 m3/s, although with seasonal variations. That work highlighted the importance of the basin, which, in addition to fishing and wildlife activities, comprises in its 2,096 km2 some 60 ice fields (5.68 km2), only accounted for in Argentina.
(Source: Clarín)