Petro downplays risk of coup d'état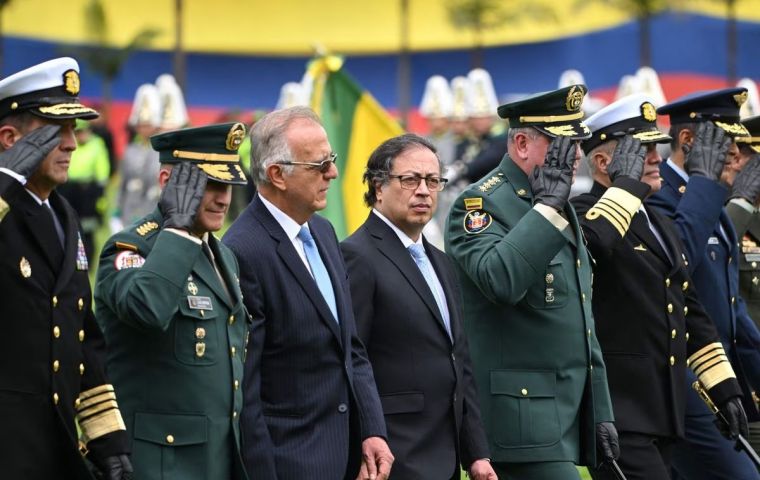 After a group of retired military officers made dubious statements, Colombian President Gustavo Petro said this weekend that a situation like the one Peru went through is unlikely to happen in his country and that he feared no coup d'état.
"Here in Colombia we are going with determined steps towards democracy, justice, and Peace", wrote President Gustavo Petro on Twitter in response to those who agitate or see a coup d'état coming, mainly due to statements made by retired members of the armed forces.
Retired Colonel John Marulanda, former president of the Colombian Association of Retired Officers of the Armed Forces (Acore), recently spoke on W Radio, where he stated that it is necessary to "defenestrate" the Head of State. A situation similar to what happened in Peru with Pedro Castillo, after his failed self-coup.
Regarding meetings between Colombian military officers and politicians with Peruvian officials, Petro said that these situations clarify that "political and business sectors smeared up to their necks with cocaine money and corruption do not want the next prosecutor nominated by the Government to end corruption."
"The path is to overthrow the government. They are preparing the money for the Commission of Accusations (of the Congress, which is in charge of judging presidents in Colombia), and they are trying to divide the Army, to see if the soldiers who risk their lives and save the retired ex-officers who were linked to drug trafficking and genocide," he added.
"The people are warned. The businessmen know that they have a path of sustainable growth within social justice, the peasantry knows that we are opening the path of agrarian reform in their favor, and the working people know that we are going to improve their working conditions. What happened in Peru will not happen here".
In this sense, he added that "the Army is united in the fight against illegalized economies and against corruption", and that it also "wants peace and the Constitution".