Three governors reelected in Argentina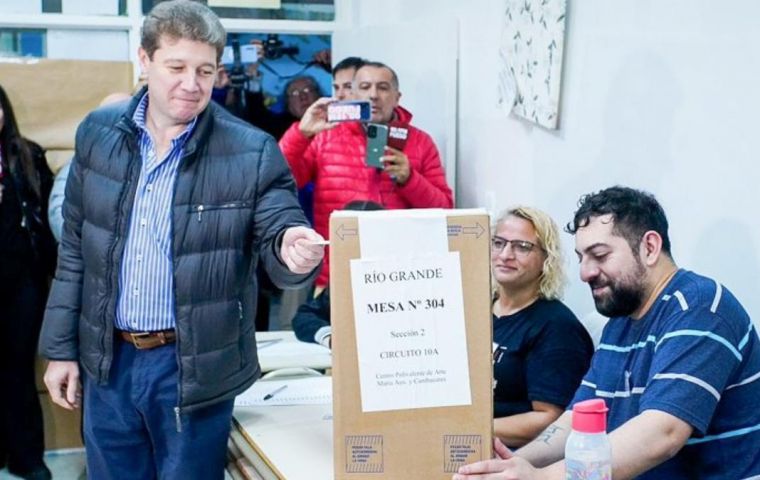 The governors of the Argentine provinces of La Pampa, Salta, and Tierra del Fuego were reelected Sunday. Meanwhile and following a Federal Supreme Court ruling, San Juan and Tucumán had to postpone their gubernatorial elections, but the former voted for local authorities anyway, while the latter adjourned the process altogether.
In La Pampa, the Peronist Sergio Ziliotto won with more than 47% of the votes; in Salta, the also Peronist Gustavo Sáenz was reelected with twice as many votes as his closest rival, and in Tierra del Fuego, Gustavo Melella, who comes from the Radical Civic Union (UCR) but had the support of President Alberto Fernández, Vice President Cristina Fernández de Kirchner (CFK) and the La Cámpora movement, took over 50% of the votes in the first round, with blank votes finishing second.
La Pampa
Ziliotto was reelected with more than 47% of the votes. Martín Berhongaray, with 40%, acknowledged defeat while things were not as clear in the province's capital Santa Rosa, which was still won by Ziliotto's candidate Luciano Di Nápoli.
"The people of La Pampa showed their enormous attachment to democracy. With an enormous level of participation [turnout], we ratified that we like to choose. Today a model of government was discussed. Almost half of the people of La Pampa have ratified us. Surely these will be moments of joy and celebration."
Berhongaray "called me to congratulate me, he shows that he is a man of democracy. In his words there is also the democratic vocation that the Unión Cívica Radical has".
"We take this triumph as a ratification of the management. We are not oblivious to everything that we have had to live through in these three years. The exogenous consequences, the national and world crisis, have affected us. But, despite everything, Peronism will continue to govern La Pampa", celebrated Ziliotto.
"The best way to do politics is to solve the people's problems," he added. President Alberto Fernández is due in Santa Rosa on Monday to celebrate.
"It is a pride to know that La Pampa has elected you again @ZiliottoSergio!I know that you will continue working tirelessly for the people of La Pampa as you have done so far. We will continue to deepen our federal outlook to guarantee a better future for Argentina," tweeted the President.
There were 298,050 Pampeanos registered to vote (or 0.86% of the national electoral roll), which means this province bears nearly no weight in this year's presidential elections.
Tierra del Fuego
The Kirchnerist Gustavo Melella avoided a second round with 53.74% of the votes over a divided opposition. Héctor "Tito" Stefani's PRO came second, and Juntos por el Cambio was displaced to fourth place behind Republicanos, the political force of evangelical pastor Andrea Almirón de Pauli, who was supported by Libertarian Deputy Javier Milei.
Melella will control the local Legislature and is expected to reform the local constitution. His party also won the mayorships of the province's three cities: Río Grande, Tolhuin, and Ushuaia. Finishing second was nobody (the blank vote) with a 70% turnout. Stefani took 10.63% of the votes.
The governor was congratulated through Twitter by President Alberto Fernández who posted: "Your reelection as governor of our wonderful and productive Tierra del Fuego, Antarctica and South Atlantic Islands is a sign of the commitment you have with this thriving people of Tierra del Fuego. We will continue on this path: more production and more work."
Salta
The province's current Governor Gustavo Sàenz was reelected through an electronic ballot box with 47% of the votes, followed by Miguel Nanni of Together for Change (Juntos por el Cambio - JxC) with 17% of the votes and Emiliano Estrada of Frente Avancemos, with 16%. Sáenz is close to Economy Minister Sergio Massa.
Saenz called for an end to the "friend or foe" rhetoric and stressed that his team is made up of officials from different areas, with whom, despite the differences, he can maintain constant dialogue.
Federal Interior Minister Wado de Pedro was the first national official to celebrate the governor's victory.
San Juan
With no gubernatorial post at stake due to the Supreme Court's ruling, Emilio Baistrocchi, the candidate of Governor Sergio Uñac was reelected as Mayor of San Juan City with over 70% of the votes.
"Against the wishes of the opposition and also of the front to which I belong, it is a pity that tonight, when we could be elected governor and vice-governor (together with Cristian Andino), we are leaving with only one victory in most of the departments. Precisely in view of this, I do not know how the next governor will be able to balance the number of elected officials of our party," Uñac warned.
Tucumán
There were no elections in Tucumàn after Governor Juan Manzur acquiesced to the Supreme Court's decision and chose to step down as a candidate for the position of lieutenant governor, although he insisted the ruling "attacks the federalism of the Argentine Republic".
Manzur announced on Friday that "in the first fortnight of June the people of Tucumán will be voting." He also said that the province's current Interior Minister Miguel Acevedo would replace him on the ticket.