Paraguay to resume diplomatic ties with Venezuela, President-elect says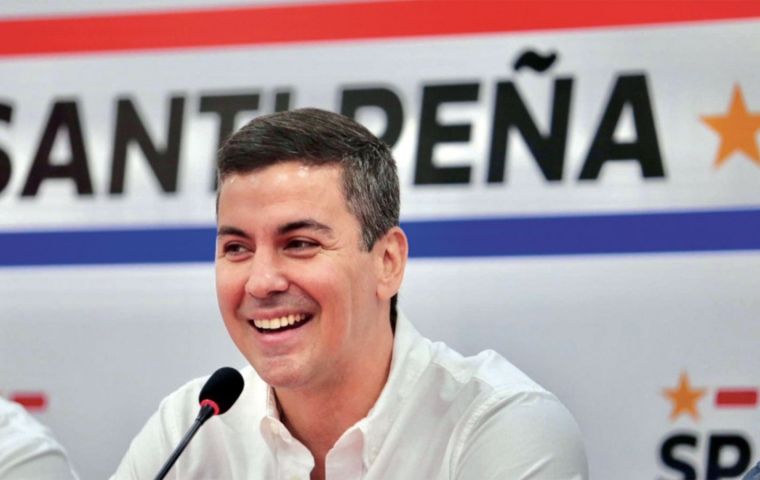 Paraguay's President-elect Santiago Peña will re-establish diplomatic ties with Venezuela without conditions after he is sworn in in August, it was reported. Peña is on a Mercosur tour meeting those heads of state who will shortly become his colleagues. After Brazil, he will meet with his counterparts in Uruguay and Argentina.
"Restoring relations with Venezuela is a decision I announced even before the elections," said Peña during a press conference in Brasilia with Brazilian President Luiz Inácio Lula da Silva.
He added that Paraguay has always had relations with Venezuela and that the re-establishment of such relations does not prevent him from having a critical position on possible human rights violations in the country or on the lack of elections.
"In that sense, we do not set conditions to reestablish relations. We are going to do it and we want to be a voice in the integration process. We want to be a voice also for the people of Venezuela, as Paraguay has historically been; which has received leaders of the Venezuelan opposition who many times sought in friendly countries the possibility of having their claims heard", he said.
Peña also pointed out that he already spoke about the issue with Venezuelan President Nicolás Maduro during a telephone conversation. The Paraguayan leader insisted that his international policy will be focused on the integration process of South American countries.
"For sure this (Venezuela) will be a matter of conversation at the next meeting of (Mercosur heads of state) but today there is no condition," Peña said.
"I only take office on August 15, but I have told Lula that I am a person who supports the integration process in all its areas. Call it Unasur, Prosur, Celac, or Mercosur, which is our closest sphere," he added.
In these processes "we have to be respectful of the visions of each of the leaders who are elected. We cannot ideologize diplomatic relations and integration."