Some rains forecasted but water crisis still dramatic in Uruguay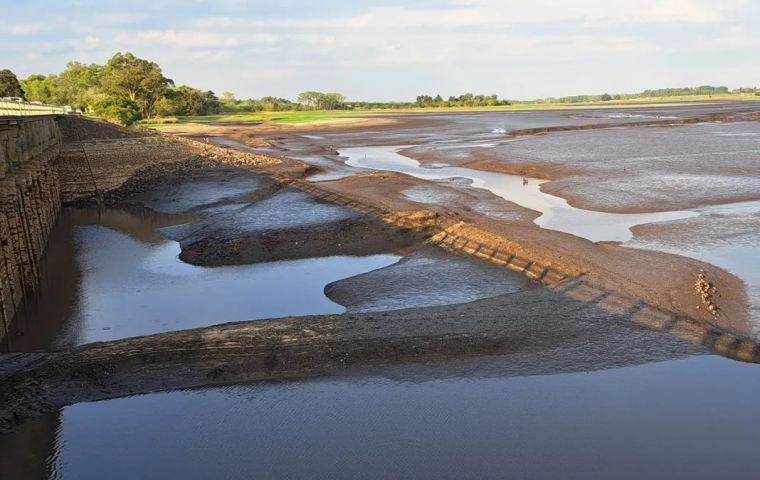 Uruguay's Meteorological Institute (Inumet) Wednesday announced it forecasted rainfalls between May 19 and 21, albeit below 10 millimeters, with a probability of occurrence between 60% and 80%, it was reported in Montevideo.
However, by the end of the month, the accumulated rainfall would be higher. But there is also a 50% probability of rain on May 24, 25, 28, and 29, the Inumet added. If it materializes, there would be between 20 and 50 millimeters more into the Santa Lucía River, water company OSE's sources
The area is currently going through a water crisis and the agency had to salinize the fluid in order to extend its availability over time.
In this scenario, opposition Senator Enrique Rubio of the Broad Front (Frente Amplio - FA) mooted for the sacking of OSE's President Raúl Montero and Vice President Susana Montaner for lack of proficiency in their jobs. He spoke of "ineptitude." Rubio also criticized President Luis Lacalle Pou's virtual "disappearance" in the middle of the crisis.
"We are proposing, and this is the responsibility of the President of the Republic, that he relieves [from duty] the president and vice-president of OSE for ineptitude, for not having had the competence to adopt measures when months before this situation was already visible," Rubio said.
"We urge the president to form a crisis committee ... to elaborate proposals for the different possible scenarios," he added.
"The President of the Republic has disappeared from the scene, that is one of the fundamental concerns, just as in other moments of crisis he was facing them, in this situation of the water crisis he has not done so and this absence worries us," he went on.
Meanwhile, Senator Liliam Kechichian said that the Government has had since October a "clear awareness of the water crisis situation", but that, despite the fact that the agricultural emergency was determined at that time, the authorities did not stop to take into account that this impacted human consumption.
"Realize the seriousness that we are experiencing, that we stopped talking about drinking water. Now we are talking about water fit for human consumption. This is very serious for Uruguay. In this sense, we have not found today a proposal of solutions for this crisis that has generated a dramatic situation. It is no longer a crisis, it is a dramatic situation."