Turkey brokers a two month extension of the Black Sea grain shipments benefitting Ukraine exports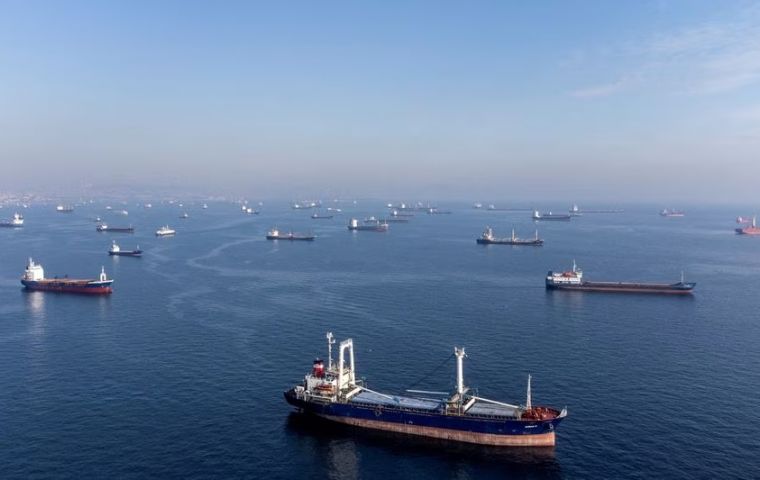 Turkey's President Recep Tayyip Erdogan announced on Wednesday that a two-month extension of the UN-back grain deal, allowing shipments of grain from Ukraine to the global market, had been reached.
"With the efforts of our country, the support of our Russian friends, the contribution of our Ukrainian friends, it was decided to prolong the Black Sea grain deal for two more months," Erdogan said in televised remarks.
Ukrainian and Russian officials confirmed the extension of the deal to allow exports from the Black Sea port despite the ongoing war.
Ukrainian Deputy Prime Minister Olexandr Kubrakov confirmed the grain corridor would remain open until at least July 18.
"We welcome the extension of the work of the initiative, but we emphasize that it must work effectively," Kubrakov wrote on Facebook.
"We confirm the announcement by the Turkish President that the Black Sea Initiative will be extended by two months," said Maria Zakharova, spokeswoman for the Russian Foreign Ministry.
UN Secretary-General Antonio Guterres welcomed the Turkish-brokered agreement.
"These agreements matter for global food security; Ukrainian and Russian products feed the world," Guterres said.
The agreement, known as the Black Sea Grain Initiative, was struck in July last year and was renewed in March this year for 60 days.
The deal was again up for renewal on May 18 and has allowed some 30.3 million tons of grains to depart Ukraine's ports.
That includes some 625,000 tons of food for aid operations in Afghanistan, Ethiopia, Kenya, Somalia and Yemen.
Ukraine and Russia are both major suppliers of wheat, barley, sunflower oil and other affordable food products for the Asian and African countries.
The two countries at war signed the agreement with the UN and Turkey last year after Russia's invasion of Ukraine put a pause on shipments in the months following February 2022.
The pause pushed food prices to record highs last year, contributing to a global food crisis.