Brazilian meatpackers in US facing rough times because of less cattle and inflation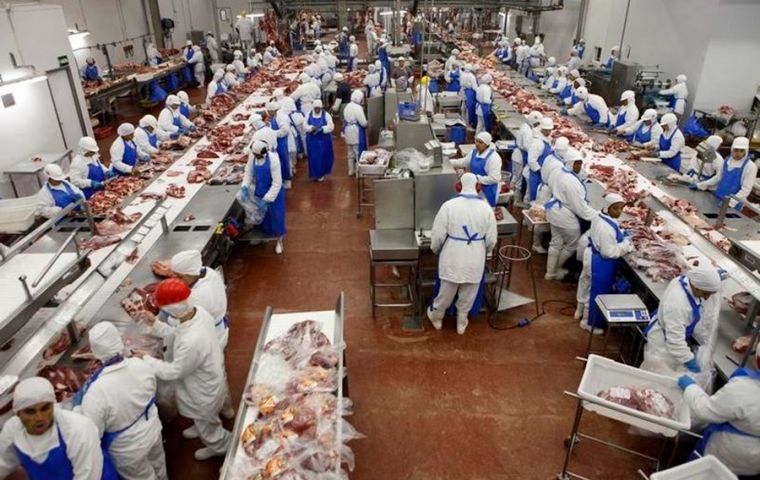 Brazilian meatpackers have seen their balance sheet profits drop significantly during the first quarter of the year given the negative performance of sales in the United States. Losses have been considered more serious than those caused by the nearly month long suspension of Brazilian beef sales to China, the country's other main market.
JBS and Marfrig plants in the US suffered squeezed margins due to higher cattle prices amid low supply. JBS, for instance, experienced a net loss of Brazilian Reais of 1.5 billion between January and March, compared to earning BRL 5.14 billion in the same period of 2022. Similarly, Marfrig's profits plummeted from Brazilian Reais 109 million to a loss of BRL 634 million.
Felipe Simonsen Biancalana from Guide Investimentos explained, "The most significant factor impacting the slaughterhouses' balance sheets was the change in the livestock cycle in the US, which reduced supply. This has had a much larger impact than the atypical case of the mad cow disease that resulted in a meat embargo in Brazil."
Sales of Brazilian beef to China were suspended between February and March due to a voluntary self-embargo announced by Brazil in compliance with a bilateral protocol.
At JBS USA Beef, the company's North American beef unit, adjusted EBITDA for the quarter amounted to R$ 115.8 million, representing a staggering 97.2% drop compared to the same period in 2022.
The poor performance had a knock-on effect on the group's consolidated adjusted EBITDA, which fell by 78.6% to BR$ 2.16 billion. As a result, the consolidated adjusted EBITDA margin decreased by 8.6 percentage points compared to the previous year, reaching 2.5%.
Inflation in the US also had a negative impact in the first quarter, affecting Marfrig's sales in North America. The company operates in the region through National Beef, whose revenue dropped by 15.5% in the first quarter, totaling BR$ 13.4 billion. With the increase in cattle prices, National Beef's EBITDA plunged by 78% to BR$ 527 million, with an EBITDA margin of 3.9%.
Marfrig's CEO of North America operations, Tim Klein, projected a more favorable scenario in the second and third quarters, traditionally more profitable, with a predicted 3% to 4% drop in cattle prices. "July should have the lowest price of the year," he added.
Guide's advisor noted that Minerva Foods "escaped" some of the impacts as the company does not operate in North America and was more sensitive to the Chinese embargo in the first quarter.
Minerva achieved a profit of BR$ 114 million in the first three months of the year, a mere 0.5% decrease compared to the same period in 2022, and maintained nearly stable margins despite credit challenges and the Brazilian embargo. The company also relied on its units in Argentina and Uruguay to continue serving the Chinese market.