Falklands releases King Charles III coronation commemorative 50 pence coins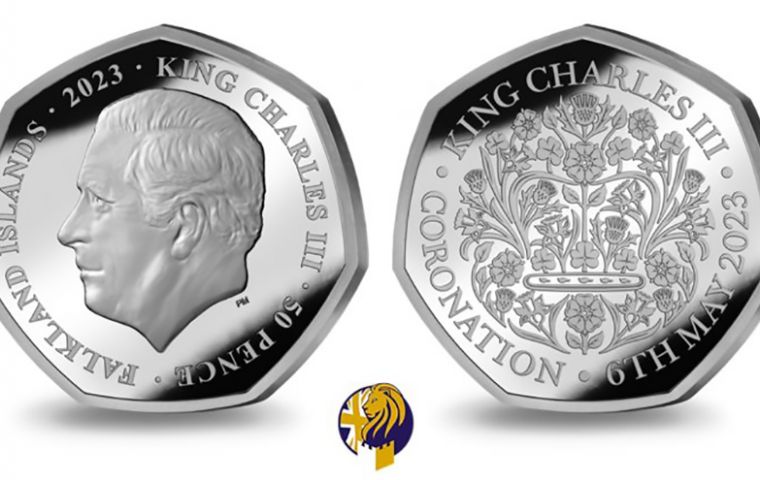 The treasury of the Falkland Islands government has released new commemorative 50-pence coins which mark the coronation of His Majesty King Charles III, which took place on the 6th May.
Britain's new King succeeded his mother, the Late Queen Elizabeth II, on the 8th September 2022 after an astonishing 70-year reign. Charles III was officially proclaimed King the following day, which also affirmed his accession as Head of the Commonwealth and as King of fourteen other realms and British territories.
The King's coronation took place at Westminster Abbey, where every English and British monarch was crowned since the accession of King William I in 1066 and over the following 900 years. In the presence of more than 2,000 guests comprising foreign royalty and serving heads of state, to distinguished persons from all walks of life, the Archbishop of Canterbury placed the historic crown of St. Edward onto the head of the sovereign. Soon afterward, the crown of the consort was placed onto the head of Queen Camilla, the very crown used during the coronation of King George V and Queen Mary in 1911.
The design features the official Coronation Emblem for His Majesty King Charles III which includes the wording 'King Charles III - Coronation - 6th May 2023. This coin is also the very first coin produced on behalf of the Falklands Islands featuring His Majesty's effigy.
Issued on behalf of the Falkland Islands, the coin has been produced in Cupro Nickel Diamond Finish and Proof Sterling Silver. Approved by Buckingham Palace this coin carries our effigy of His Majesty King Charles III produced exclusively by Pobjoy Mint.
This emblem was specifically chosen to pay tribute to The King's love of the natural world, depicting the rose of England, the thistle of Scotland, the daffodil of Wales and the shamrock of Northern Ireland. Together, the flowers create the shape of St Edward's Crown, with which His Majesty The King will be crowned during the Coronation Service at Westminster Abbey on Saturday, 6th May 2023.
The Brilliant Uncirculated diamond finish base metal coins are presented in a blister-pak type folder with illustrations and informative text. The silver Proof coins are presented in a custom case accompanied by a certificate of authenticity. For additional information about these and other coins issued by the treasury of the Falkland Islands, please click here for the Brilliant Uncirculated coin or here for the Proof coin.