G7 Summit in Hiroshima: Stronger sanctions declared against Russia, Zelensky's presence expected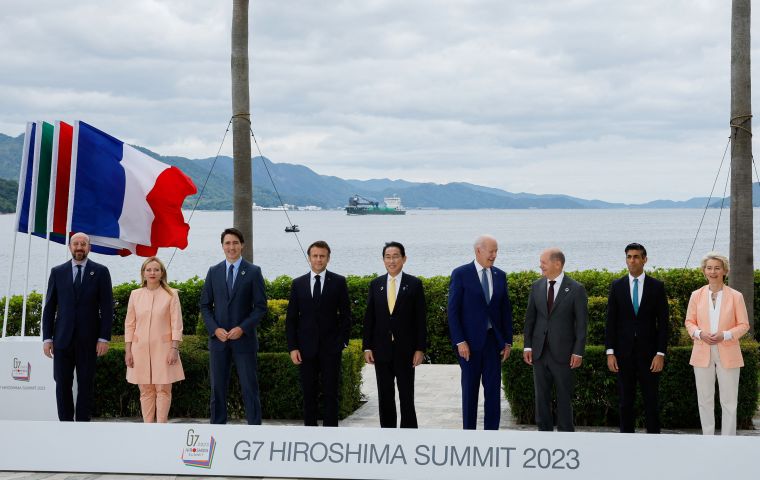 The leaders of the Group of Seven, G7, major industrial countries on Friday vowed to tighten sanctions on Russia. During talks in the Japanese city of Hiroshima, they vowed: "to stand together against Russia's illegal, unjustifiable, and unprovoked war of aggression against Ukraine."
In a joint statement, the G7 nations said they were "imposing further sanctions and measures to increase the costs to Russia and those who are supporting its war effort" in order to "starve Russia's war machine."
"We are also building on the success of our efforts to ensure that Russia is no longer able to weaponize the availability of energy against us and against the world," the statement added.
G7 leaders called again for Russia to withdraw its troops from Ukraine and vowed more financial, humanitarian, military and diplomatic support to Kyiv "for as long as it takes."
The US component of the new sanctions will include cutting off about 70 companies from Russia and other countries from US exports, according to an unnamed US official cited by multiple media outlets.
The official added that 300 sanctions against individuals, entities, vessels and aircraft would be announced by G7 leaders.
"These will go after circumvention. These will go out for financial facilitators, as well as future energy and extractive capabilities of Russia and other actors helping to support the war," the official added.
Speaking ahead of the talks, German Chancellor Olaf Scholz said Berlin wanted pragmatic measures to prevent the circumvention of sanctions imposed on Russia.
The US has so far frozen Russian Central Bank funds, restricted banks' access to SWIFT — the dominant system for global financial transactions — and sanctioned thousands of Russian firms, government officials, oligarchs and their families.
Last year, G7 nations collectively imposed a US$60 per-barrel price cap on Russian oil and diesel.
On Twitter, UK Prime Minister Rishi Sunak announced a ban on Russian diamonds and imports of metals from Russia, including copper, aluminum and nickel.
Britain will also target an additional 86 individuals and companies involved in Russian President Vladimir Putin's "military-industrial complex," Sunak's government said, in addition to those involved in energy, metals and shipping industries.
G7 as a whole is expected to further announce restrictions on the multi-billion dollar export of rough diamonds from Russia.
Ukrainian president Volodymyr Zelensky will attend the G7 summit in Hiroshima in person on Sunday, a Ukrainian security official said Friday.
"Very important things will be decided there and therefore the presence of our president is absolutely essential in order to defend our interests," Oleksiy Danilov, secretary of the National Security and Defense Council, told state television.
However, there has been no formal announcement by Zelenskyy's office.
The first stop on Friday for world leaders, including US President Joe Biden, was a wreath-laying ceremony at Hiroshima's cenotaph, where Japanese Prime Minister Fumio Kishida called for a world free of nuclear weapon. Kishida said the achievement would be his life's work.
Russia has made thinly veiled threats to use nuclear weapons in the Ukraine war to defend its "territorial integrity." China is also expanding its nuclear arsenal and North Korea has recently stoked fears of a new nuclear test with a barrage of missile launches.