Poll: Uruguayan President still has 46% approval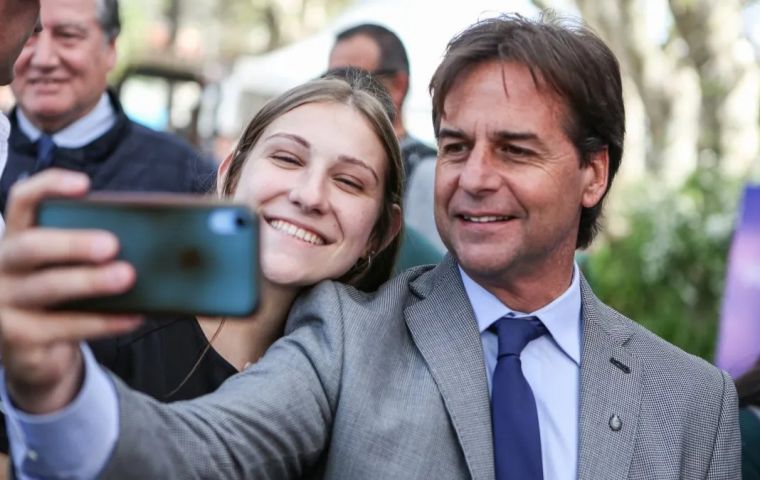 According to a study by pollsters, Cifra published this week in Montevideo, Uruguay's President Luis Lacalle Pou still has a 46% approval rating and a 43% negative image after over three years in office.
Those who chose Lacalle in November 2019 are overwhelmingly in favor of how he is performing, with over 80% of the Multicolor coalition voters still approving of his performance, while 78% of the Broad Front (Frente Amplio - FA) voters criticize his management.
Among those who do not say or do not remember whom they voted for in 2019, 43% disapprove, and almost a third approve, according to a nationwide survey from landlines and cell phones with 987 respondents between April 20 and May 3, 2023.
In these last two months, polarization is becoming more acute, because those who voted for Lacalle Pou are increasingly in favor and those who did not vote for him are increasingly against him.
Those reluctant to say how they voted -and those who were not convinced by either of the two options in the ballot- are the only group with more diverse opinions.
Lacalle's administration began with a long "honeymoon" particularly during the first year of the Covid-19 pandemic. Since then, positive reviews declined from 63% in 2020 to 44% this past February.
The newest data showed a two-percentage-point increase in approval and a one-point increase in disapproval, which is within the survey's margin of error.
When compared to his predecessors at the same point in their terms, Lacalle's favorable performance is below that of Tabaré Vázquez's first term (55%), but above Pepe Mujica's 42%. The difference is that the current president has more negative judgments than Vázquez in 2008 and Mujica in 2013.
Halfway polls usually reflect people's criticism of what was not done, it was explained. If most voters consider that the current government is not meeting their expectations, the likelihood of the opposition winning the next presidential elections increases.