Because of lack of the required ID, thousands in England were unable to vote in recent council elections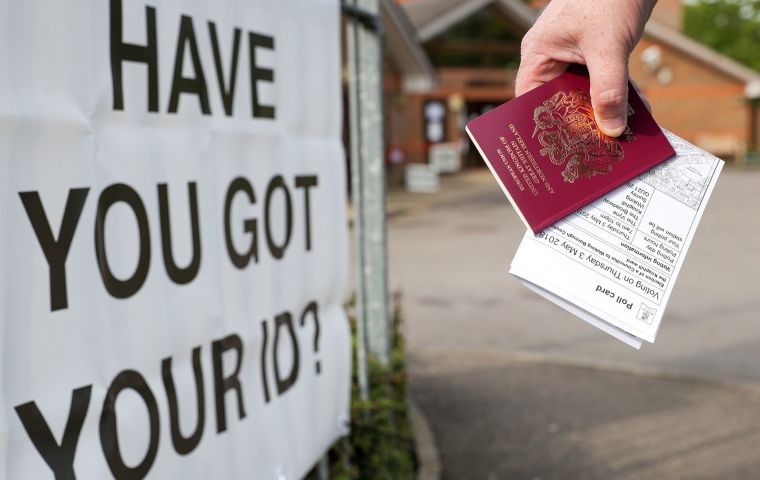 Thousands of people did not vote in England's recent local elections as they did not have the correct ID, according to council data collected by the BBC. Information from 160 of 230 councils where polls were held this year shows 26,165 voters were initially denied ballot papers at polling stations.
Of these, 16,588 people came back with valid ID, whilst 9,577 did not return. This is a relatively small number of voters, although campaigners warn this would not capture all those affected.
Opposition Labor was the great winner of the local elections in England. The governing Conservatives lost over 1,000 council seats. The Labour Party, the Liberal Democrats and the Green Party of England and Wales all made gains, with Labour becoming the party with most members elected to local government for the first time since 2002.
England's local elections on 4 May were the first in Britain where people had to show photo ID, such as a passport or driving license, to vote in person.
The impact of the rule is being closely watched ahead of the next general election, expected to be held in 2024, when it will also be in force.
The Electoral Commission, the elections watchdog, is collecting data from councils and expects to publish an initial analysis of the policy next month.
But some local authorities have begun to disclose headline figures on the number of voters turned away, which have been collected by the BBC.
A fuller picture on the impact of the requirement will take a while to emerge, as more information comes in. Some information collected - including on voters suspected of forging ID - is not being published by councils.
Working out the proportion of eligible voters turned away due to the ID rule is difficult, because of differences in how councils have recorded the data.
Information collected so far suggests the people initially turned away were a small proportion of the overall voter base, generally less than 1% and in many cases less than 0.5%.
This echoes the findings of voter ID trials conducted in 2018 and 2019, which put the proportion of people initially refused a ballot at around 0.4% of the total votes cast.
David Cowling, a former BBC polling expert who is now a visiting research fellow at King's College London, also says it must be borne in mind that some voters initially turned away later return with ID.
He says evidence from metropolitan borough councils, and the pilots, suggests around 60% of people initially refused a ballot return with valid ID - producing a rough figure of 0.2% refusals of the votes cast.
"That's arguably 0.2% fewer people than there should be not participating - but on the other hand, it doesn't seem to me that the death of democracy is on the agenda either," he told BBC Radio 4's More or Less.
Labour MP Clive Betts, who chairs a Commons committee set to hold its own hearing on the new rules, also said official data would not reflect those who stayed at home, either because they didn't have ID or didn't know whether it would be accepted.
"The numbers of these people could be bigger than those who were turned away," he told the BBC.
He added that even if the number of people denied a ballot was in the thousands, it would be a "thousand times more" than the number of people prosecuted each year for voter fraud.
The Electoral Reform Society, a campaign group that opposes voter ID, warned that "far more" people would be turned away at the next general election unless the rule is scrapped.
"These figures, while not a complete picture, show what we've long feared," said Dr Jess Garland, the society's director of policy and research.
"One voter turned away is one too many, but these figures show that the impact was far, far greater."
The Electoral Commission will be collecting information on where greeters were used at polling stations, in order to assess the impact they had.
Voters without an accepted form of ID - estimated at around 2 million - were able to apply for a free certificate allowing them to vote. Some 85,000 people - around 4% of the estimate, applied for one online ahead of May's polls. An official turnout figure for the local elections in England is expected to be available later this year.