Depletion of the Colorado River forces California, Arizona and Nevada to a conservation agreement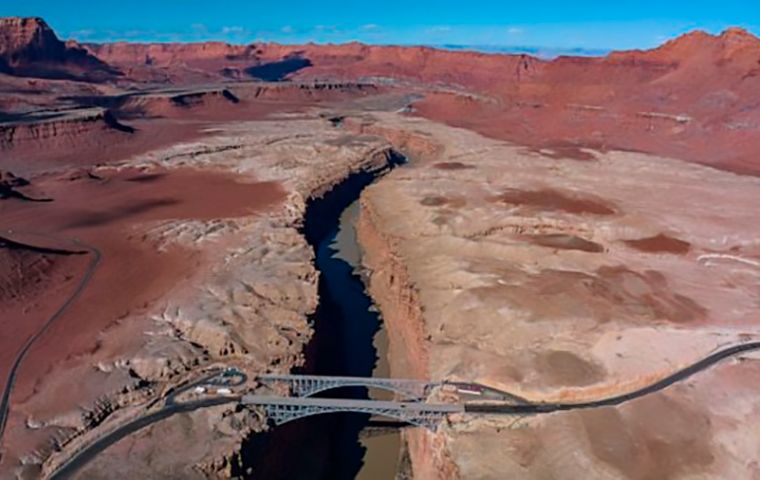 Three western US states have agreed to draw less water from the drought-depleted Colorado River in exchange for US$1.2bn in federal funding. Arizona, California and Nevada said the deal would conserve at least 3 million acre-feet of water to the end of 2026.
The dwindling river, which flows through the Grand Canyon, provides drinking water for millions, crop irrigation and hydro-electric power. It has been shrinking for years during decades of drought in the US west.
The nearly 2,400km river is used by over 40 million people in seven US states, as well as several Native American tribes and parts of Mexico.
The reductions announced on Monday would account for about 13% of the amount being drawn by the three states.
Cities, Native American tribes, farmers and other water users will receive the funding - via the Inflation Reduction Act of 2022 - if they use less water.
Some 55% of the water cuts could come from Arizona, 30% from California and 6% from Nevada, a spokesman for the Arizona Department of Water Resources told CBS News.
One acre-foot of water is about enough to provide water and power to two or three US households for one year.
All seven states pulling water from the Colorado River - including Wyoming, Utah, Colorado and New Mexico - have endorsed the plan.
It must still be approved by the federal government's Department of the Interior, which said it will begin reviewing it as early as next month.
Interior Secretary Deb Haaland said on Monday the deal showed efforts by the Biden administration and states to find solutions in the face of climate change and sustained drought.
The governors of California, Arizona and Nevada released a joint statement praising the plan as a necessary step towards refilling western reservoirs.
A report in the journal Nature last year found 2000-21 to be the driest period for southwestern North America in at least 1,200 years.