Sinn Fein which calls for a united Ireland, becomes largest party in Northern Ireland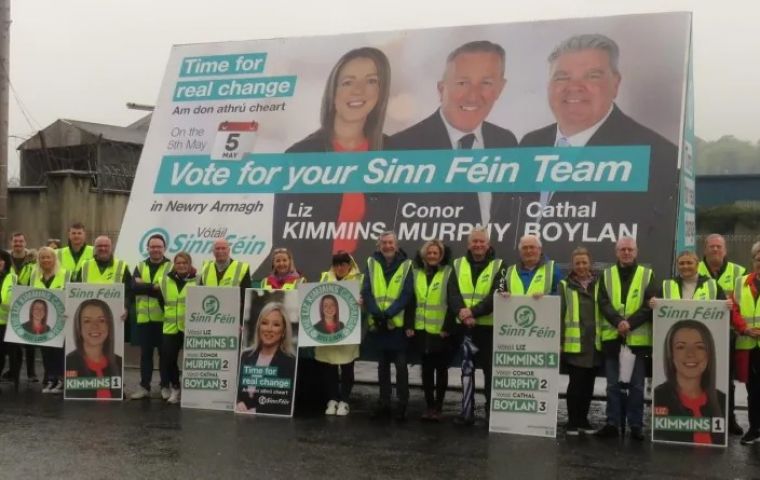 The Irish nationalist party, Sinn Fein, has become the largest party in Northern Ireland in Sunday's local election results. But rather than break a political deadlock in the North, Sinn Fein's striking gains may harden the sectarian divide that has long complicated its fragile government.
Sinn Fein, once the political arm of the IRA, and the party that has historically called for uniting the North with the Republic of Ireland, gained 39 seats, for a total of 144 council members, up from 105 councilors returned in 2019.
The Democratic Unionists, who support remaining part of the United Kingdom, managed to hold on to their existing total of 122 seats, a mediocre result that is nevertheless viewed by some in their ranks as vindication of the party's refusal to enter a power-sharing government since last year.
Sinn Fein vice-president Michelle O'Neill called for the Democratic Unionist Party (DUP) to end its boycott of power sharing at Stormont. The DUP has 122 seats, with the centre-ground Alliance Party in third place.
Stormont's assembly and governing executive is not functioning because of the DUP's protest against post-Brexit trading rules. In last year's assembly election, Sinn Féin became the largest party at Stormont. Ms O'Neill described the council election result as "historic".
She said Sinn Féin's campaign, which has seen it make breakthroughs in areas such as Coleraine, Ballymena and Lisburn, was about "positive leadership, it was about a restoration of the executive, it was about making politics work".
DUP leader Sir Jeffrey Donaldson said his party wanted to consolidate its vote to have a mandate to seek changes to the post-Brexit rules so it could return to Stormont.
"That's about ensuring that Northern Ireland's ability to trade with the rest of the United Kingdom is not only respected but protected in law, and that our place in the union is restored," he said.
The Alliance Party, which also came third in the 2022 assembly election, has increased its number of councilors from 52 to 67.
In terms of first preference votes, Sinn Féin, Alliance and Traditional Unionist Voice (TUV) increased their share from the 2019 council election.
Sinn Féin returned a 30.9% share, an increase of 7.7%.
The DUP dropped by 0.8% to 23.3%, with falls in first preference vote share also for the Ulster Unionist Party (UUP) and Social Democratic and Labour Party (SDLP).