Argentina's president breaks protocol during religious service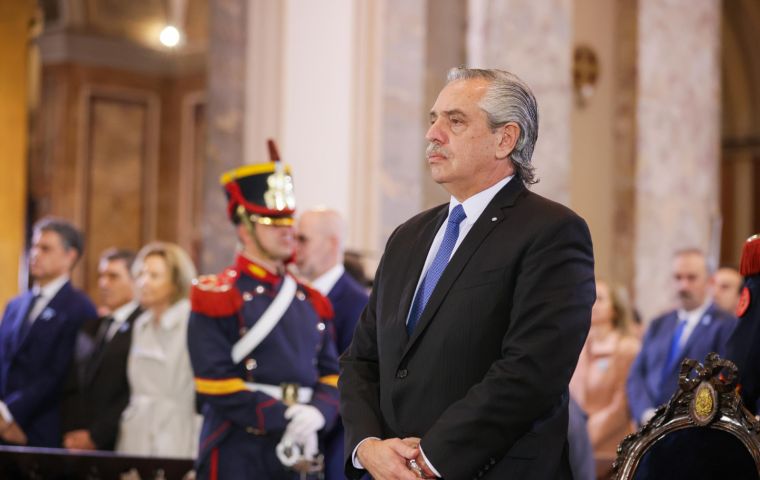 Argentine President Alberto Fernandez broke protocol and delivered a few words during the Te Deum held on Thursday at the Buenos Aires Cathedral on the occasion of the national holiday of May 25. Traditionally, May 25 marks the expulsion of the Spanish viceroy in 1810, but in 2023 it signified the 20th anniversary of Néstor Kirchner's coming to power, which is what Vice President Cristina Fernández de Kirchner (CFK) would later celebrate under heavy rain in Plaza de Mayo.
Hence, the political rally prevails over the religious service. The speech of the vice president is more important than that of the head of state. And what the Archbishop of Buenos Aires had to say is almost irrelevant.
"We have to build a democratic coexistence that we lack," said President Fernandez. "It is clear that in diversity we think differently and we have different visions and aspirations for the country, but we have all the commitments that you, Cardinal, have marked for us: first the last ones that Pope Francis teaches us," he added.
"I want to pray for the Pope as he asks every time he speaks to us. I want to pray for you, for every Argentine man and woman, so that once and for all we can, in unity, build a more just society," he also said while admitting that he turned to the Supreme Pontiff "many times" during this time "because Argentina needed him."
"The beloved Pope was always helping. Today I make it public because he always did it in silence. He never stopped helping," President Fernandez also pointed out.
Regarding the political event scheduled for Thursday afternoon at Plaza de Mayo, President Fernandez said that "We all have to be in the square remembering Nestor because Nestor united us; today we have to be more united than ever," insisted Fernandez, who after the Te Deum went to the presidential summer residence in Chapadmalal to First Lady Fabiola Yáñez and their son Francisco. He also said during a press conference at the Casa Rosada that he is still moved by the memory of Néstor Kirchner's inauguration.
"Thanks to him, from the cold winds of the south, Argentina recovered the warmth of the embrace and the collective struggle. He united us and summoned us, with enormous courage, to believe in the transformation of the homeland to face the greatest adversities. And to win. I believe that for all Argentines May 25 is a day that should summon us to unity, to encounter, to reflection", said Fernández.
President Kirchner expressed the idea of "understanding that we have problems to overcome, problems that multiply, such as the case of the drought, which makes everything so difficult for the country's economy, but that we have to be able to be together" and "achieve together the goals we have", he recalled.