The Nobel of Architecture, Pritzker Prize, for Sir David Chipperfield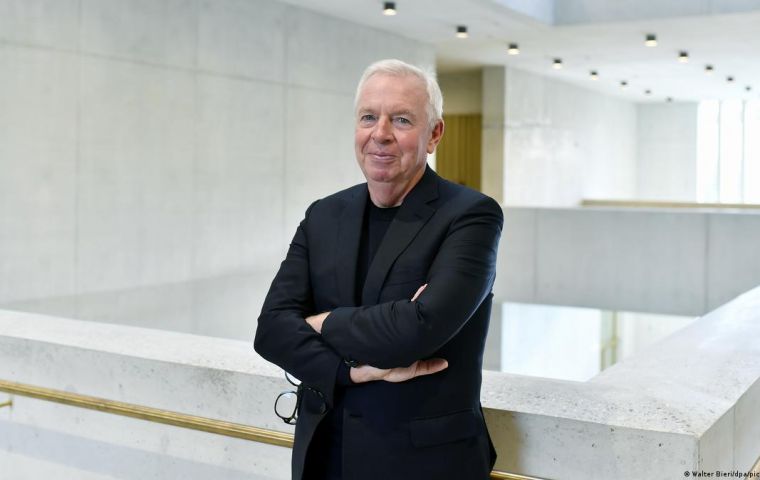 The Commander's Cross of the Order of Merit of the Federal Republic of Germany, the Japan Art Association's Praemium Imperiale, a knighthood in his native Britain, the list of international honors and awards is so long that it's surprising David Chipperfield had yet to receive the Pritzker Prize, considered the Nobel Prize of architecture.
However the Briton brought up in a humble farm received the award this Wednesday for the first time in Athens, Greece.
Sir David Alan Chipperfield was born in London in 1953 and grew up on a farm in the southwest of England. He originally wanted to become a veterinarian, but his passion for architecture was ignited when his father converted another farm into vacation apartments. As young David assisted his father, he became fascinated by the design possibilities.
After studying architecture in London, Chipperfield worked at the office of legendary architect Norman Foster in the 1970s. In 1985, he founded his own company, David Chipperfield Architects.
Today, the architectural firm has offices in London, Berlin, Milan, Shanghai and Santiago de Compostela.
Chipperfield made a name for himself internationally, especially with the renovation and reconstruction of old buildings while taking into account their history and environment.
His offices have completed more than 100 projects in Asia, Europe and North America, including the reconstruction of the Procuratie Vecchie in Venice, the Museo Jumex in Mexico City, and the Museum of Modern Literature in Marbach, Germany.
David Chipperfield has realized only a few projects in Britain and has felt a certain estrangement from his homeland since Brexit. But he has developed a cloe connection with Berlin. In 2009, he completed the reconstruction of the German capital's Neues Museum located at the city's Museum Island, which had been severely damaged during World War II.
When the Pritzker jury announced its choice in March 2023, it praised Chipperfield for his "timeless modern design that confronts climate urgencies, transforms social relationships and reinvigorates cities."
"Architecture takes, it takes land, it takes resources, it takes energy — so then the question is, what does it give?" Chipperfield said that sustainability for too long has played a secondary role in architecture.
In 2017, Chipperfield founded the Fundacion RIA in Santiago de Compostela, Galicia. Based in northern Spain, the foundation aims to harmonize construction and the environment through planning control.
Admitting that it is more energy-efficient to preserve existing buildings rather than demolish them, his stance aligns with the philosophies of previous Pritzker laureates, such as the French architectural firm Lacaton & Vassal.
Architecture must not simply work to make the world more beautiful, said Chipperfield, but also to make it more just and sustainable: "This is the moment in the planet's history where we really have to think about how we aspire society to be."