Indigenous leader to vie for Ecuador's presidency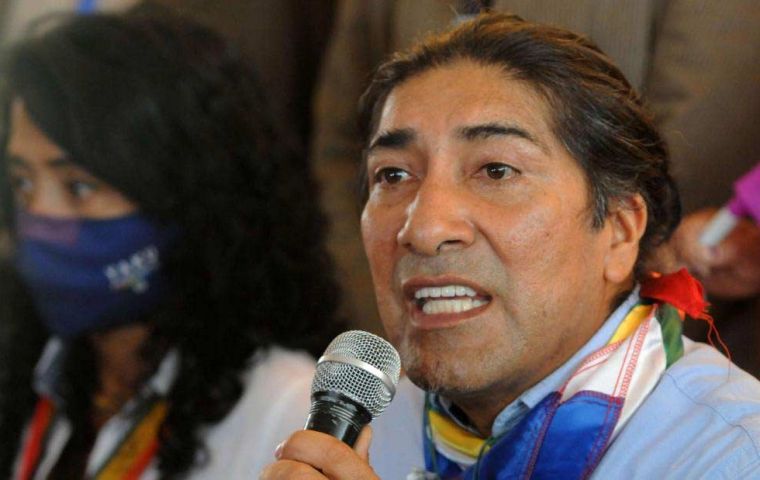 Ecuadorian Indigenous leader, lawyer, and anti-mining activist Yaku Pérez will run in the upcoming snap elections called after President Guillermo Lasso dissolved Parliament through a so-called "crossed-death" decree earlier this month, it was announced Thursday in Quito. Pérez, 54, will participate as a candidate of a coalition of several leftist movements.
"Today we want to build a different, free, and clean path," said Pérez in a press conference, during which he added that it would be an honor to represent "the most humble people of Ecuador." He also said that his vice-presidential running mate will be a woman because gender equality is essential in this alliance.
Pérez's is the first pre-candidacy made official for the elections set for Aug. 20 by the National Electoral Council (CNE). The president stemming from the new elections must complete Lasso's term ending in May 2025.
The indigenous leader finished third in the 2021 elections and failed to make it through to the runoff won by Lasso over the leftist Andrés Arauz, who is close to former President Rafael Correa (2007-2017).
The CNE on Wednesday officially called for early general elections on Aug. 20 in a broadcast message: "Thus, the National Electoral Council ratifies its democratic commitment through the execution of highly technical processes that provide guarantees of transparency, certainty and legal security in all stages of the electoral process." Henceforth, any type of publicity for electoral purposes is prohibited.
Slightly over 13 million voters will have to elect a new president and vice-president, and 137 assembly members. In Ecuador, voting is mandatory for citizens aged between 18 and 65. In the event of a run-off, it has been scheduled for Oct. 15, the CNE said. Candidacies will be registered until June 10 and the electoral campaign will take place from Aug. 8 to 17. Mandatory electoral debates will be held on Aug. 13 in order to promote an informed vote.
Meanwhile, President Lasso underwent a prostate operation at Houston's Methodist Hospital in the United States, which was successful, the General Secretariat of Communication of the Presidency reported Thursday in a statement. Lasso is due back in Ecuador by May 28.
On April 15, Lasso was hospitalized with a fever and a decrease in oxygen saturation due to a severe urinary tract infection. He was then treated in the Intensive Care Unit of the Armed Forces Hospital in Quito and was discharged seven days later.