Uruguayan Presidential Secretary survives serious car crash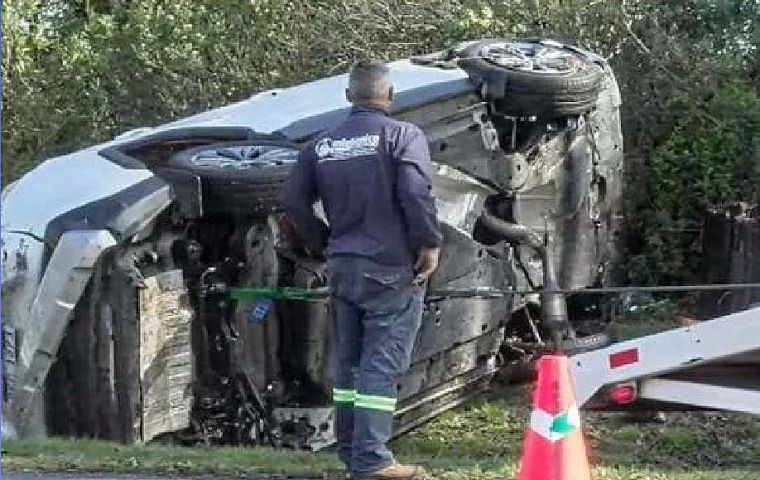 Uruguay's Presidential Secretary Álvaro Delgado and his driver Carlos Soria were hospitalized in Paysandú Friday after a serious car crash on Route 24 while on their way to the Anchorena ranch for a cabinet lunch called by President Luis Lacalle Pou, it was reported.
Doctor Verónica Laurino, medical director of the Corporación Médica de Paysandú (COMEPA) Sanatorium, said both patients were in good spirits and "lucid."
She added that Delgado had a cranial traumatism without loss of consciousness, as well as a traumatism to the fist but no signs of fracture were found. He has already undergone a cranial scan with normal results, while other studies were yet to be performed.
"This Friday morning, May 26, the Secretary of the Presidency, Álvaro Delgado, and his companion, Carlos Soria, were involved in a car accident at km 23 of Route 24. Both Delgado and Soria are in good health and were taken to the medical emergency of COMEPA-IAMPP in Paysandú," a statement from the Uruguayan Presidency read.
"Both are not seriously injured and will remain under observation for 24 hours. Their transfers to Montevideo will be assessed according to their evolution."
Delgado later Friday thanked on social media for the messages he received after the accident. "Luckily it was just a scare," he said. He added that he and Soria were in good health and insisted that "these things make us value everything and take care of ourselves more."
The vehicle Soria was driving turned over probably due to the heavy rain that was falling at the time of the accident.
"Thank you all so much for the messages you sent me! Fortunately, today was just a scare and my companion and I are fine," Delgado wrote. "These things make us value everything and take better care of ourselves," he added.