Paraguayan President-elect meets with Argentine and Uruguayan leaders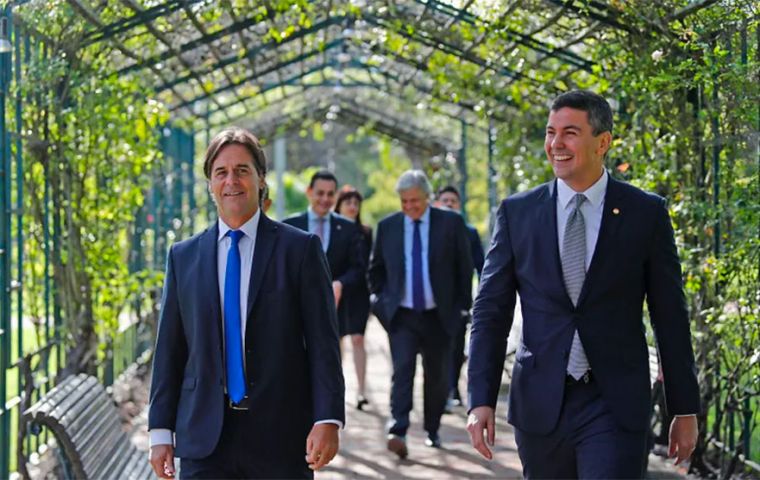 Paraguay's President-elect Santiago Peña Monday met in Buenos Aires with Argentine President Alberto Fernández and later in the day, he traveled to Montevideo for an encounter with President Luis Lacalle Pou as both La Plata River leaders were preparing to travel to Brasilia for the South American Summit convened by Luiz Inácio Lula Da Silva.
In Uruguay, Peña was welcomed at the Suárez y Reyes residence for lunch alongside Foreign Minister Francisco Bustillo. Peña also met with the secretary general of the Latin American Integration Association (Aladi), Sergio Abreu, and made a stop at the Mercosur building and other key spots in Montevideo.
Earlier Monday, Peña discussed "strategic issues" such as the Paraná river waterway and Yacyretá, "in addition to the historical relations between our brotherly peoples," as the Paraguayan future president put it on social media.
Peña, Fernández, and Paraguayan Vice-President-elect Pedro Alliana highlighted the development of Mercosur and the re-launching of Unasur during an encounter aimed at strengthening the "historic ties of brotherhood" between both countries, the bilateral strategic relationship, and the regional integration process.
"It has been a pleasure to receive the president-elect of Paraguay, Santiago Peña. The historic ties of brotherhood between our countries are a fundamental part of the regional integration process that our Latin America needs to strengthen," said Alberto Fernández on his official Twitter account.
The Argentine president highlighted that spaces such as Mercosur and Unasur "are essential to consolidate democracies and achieve that unity", and assured that both governments will continue to "deepen the bilateral relationship for the benefit of our peoples".
Peña said that with Fernández they talked about "strategic issues" in addition to "the historical relations between our brotherly peoples" while stressing that "working on investments that generate development will be the priority of our government," he remarked on his Twitter account. Also present at that meeting at the Olivos residence was Foreign Minister Santiago Cafiero.
Peña and Alliana won the general elections on April 30 with more than 42% of the votes.