Same-sex relations can lead to death penalty in Uganda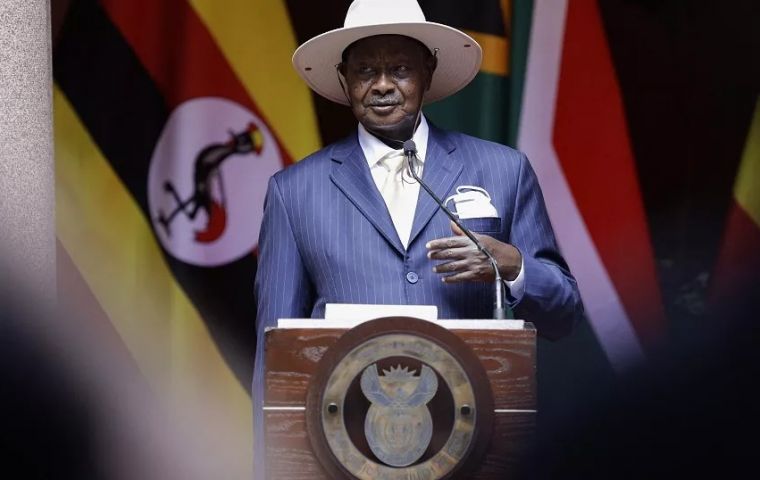 Ugandan authorities have passed new criminal legislation whereby homosexuality is punishable by death, it was reported in Entebbe. President Yoweri Museveni Monday signed into law the bill that has the support of the country's public opinion.
As per the law passed earlier this year in Parliament, it is not a crime to "be homosexual." What is a crime is same-sex relations and the law imposes the death penalty for "aggravated homosexuality" to those who transmit a terminal disease such as HIV/AIDS through gay sex or by having relations with minors.
It was also made a crime to "promote" homosexuality, with a penalty of up to 20 years in prison. Organizations found guilty of encouraging same-sex activity could face a 10-year ban. The new measures against homosexuality have been described as among the world's harshest.
"We have heeded the concerns of our people and legislated to protect the sanctity of [the] family," Parliament Speaker Anita Among said in a statement. "We have stood strong to defend the culture, values, and aspirations of our people."
The amended version said that identifying as gay would not be criminalized but "engaging in acts of homosexuality" would be an offense punishable with life in jail. The previous version also required Ugandans to report suspected homosexual activity to the police or face six months' imprisonment. Lawmakers agreed to amend that provision after Museveni said it risked creating "conflicts in society". Instead, the reporting requirement pertained only to suspected sexual offenses involving children and vulnerable people, with the penalty raised to five years in jail.
"The Ugandan president has today legalized state-sponsored homophobia and transphobia," said Clare Byarugaba, a Ugandan rights activist. "It's a very dark and sad day for the LGBTIQ community, our allies, and all of Uganda."