Medvedev: British officials legitimate targets for Russia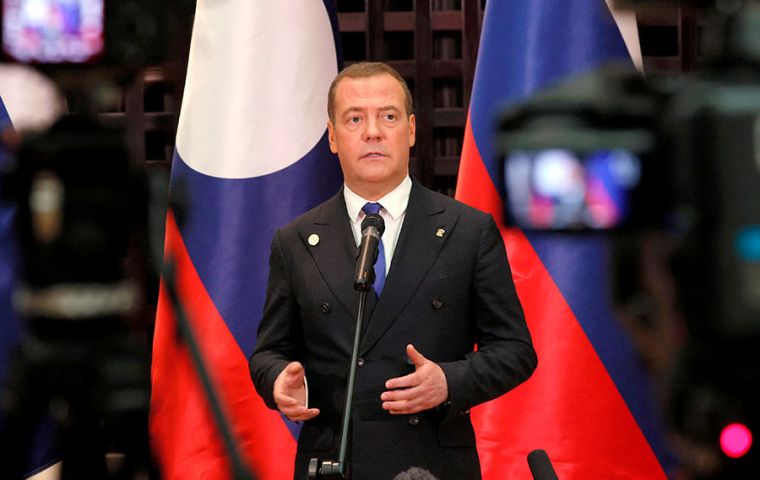 After British Foreign Secretary James Cleverly said that Ukraine has the right to strike military targets inside Russian territory, former Russian President Dmitry Medvedev said on Wednesday that British Officials have become "Legitimate" Targets for his country because the United Kingdom was "de facto" leading an undeclared war. Medvedev, who is deputy chairman of Russia's Security Council, called the UK Moscow's "eternal enemy."
"The goofy officials of the UK, our eternal enemy, should remember that within the framework of the universally accepted international law which regulates modern warfare, including the Hague and Geneva Conventions with their additional protocols, their state can also be qualified as being at war," wrote Medvedev.
"The UK acts as Ukraine's ally providing it with military aid in the form of equipment and specialists, i.e., de facto is leading an undeclared war against Russia," Medvedev said.
Medvedev said other legitimate military targets include the military-political leadership of the enemy country and any enemy troops (legal combatants and illegal combatants) who have not been officially withdrawn from among its armed forces.
"That being the case, any of its public officials (either military or civilian, who facilitate the war) can be considered as a legitimate military target," he added.
Medvedev was president of Russia between 2008 and 2012 and prime minister between 2012 and 2020.
Speaking in Estonia on Tuesday, Cleverly insisted that Ukraine "has a right" to hit targets beyond its borders as a part of its self-defense against Russian aggression. "It's important to remember that Ukraine does have the legitimate right to defend itself," Cleverly said. "It has a legitimate right to do so within its own borders, of course, but it does also have the right to project force beyond its borders to undermine Russia's ability to project force into Ukraine itself." Cleverly said, however, that weapons given to Kyiv by the UK should be used within Ukraine.
The UK's position then differs from that of Washinton, who has "been clear, privately and publicly, with the Ukrainians that we don't support attacks on Russian soil," White House National Security Council spokesman John Kirby said. And "We do not support attacks inside of Russia. That's it. Period," White House Press Secretary Karine Jean-Pierre told reporters.
On Tuesday, the Russian Ministry of Defense accused Ukraine of launching eight drones toward Moscow, damaging two buildings. "Kyiv chose the path of intimidation of Russian citizens and attacks on residential buildings," Russian President Vladimir Putin said.
On May 11, the UK became the first country to supply Ukraine with weaponry such as the Storm Shadow missiles which have been reported to have hit all of their Russian targets.