Brazil's Senate passes bill for equal pay to men and women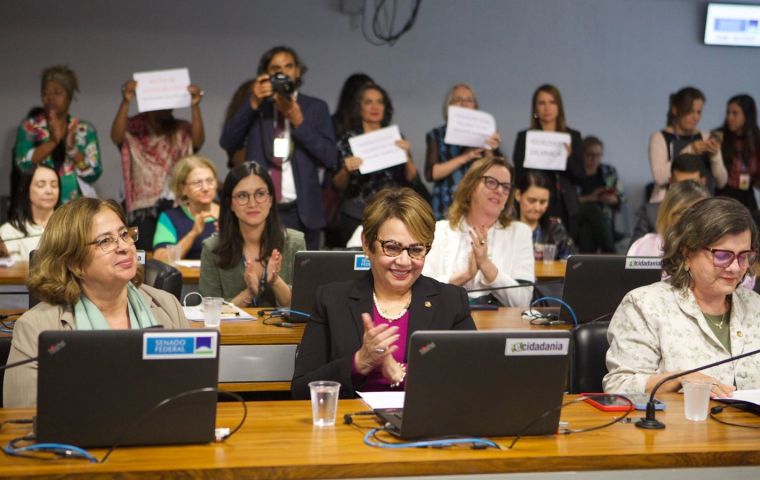 Brazil's Senate Thursday approved the bill making equal pay for men and women mandatory when they perform work of equal value or the same function, Agencia Brasil reported. The document is now ready for President Luiz Inácio Lula Da Silva to sign it into law.
The project, authored by the Executive, provides for a fine to be imposed on employers who do not comply with the law. The penalty will be equivalent to ten times the value of the new salary due. In case of recurrence, the fine will be doubled. Currently, the Consolidation of Labor Laws (CLT) provides for a fine of one regional minimum wage.
Even with the payment of the fine, the discriminated person can sue for moral damages.
In Brazil, a woman earns, on average, 78% of a man's income, according to the Brazilian Institute of Geography and Statistics (IBGE). In the case of black or mixed-race women, the gap drops to less than half the salaries of white men (46%).
During the congressional process, legislators introduced a series of amendments to the original wording. Among them, the company is exempted from the salary equality requirement when it adopts, by means of collective bargaining, a job and salary plan, a rule not established by the CLT. As per the new bill, companies must present reports so that inspectors can compare the amounts paid to men and women.
Other measures foreseen are the availability of specific channels for complaints; the promotion and implementation of diversity and inclusion programs in the workplace through the training of managers, leaders, and employees on the subject of equality between men and women in the labor market, with the measurement of results; and the promotion of training and education of women to enter, remain and rise in the labor market on equal terms with men.
(Source: Agencia Brasil)