Chilean Foreign Trade in first quarter drops some 8,4%, Port Chamber report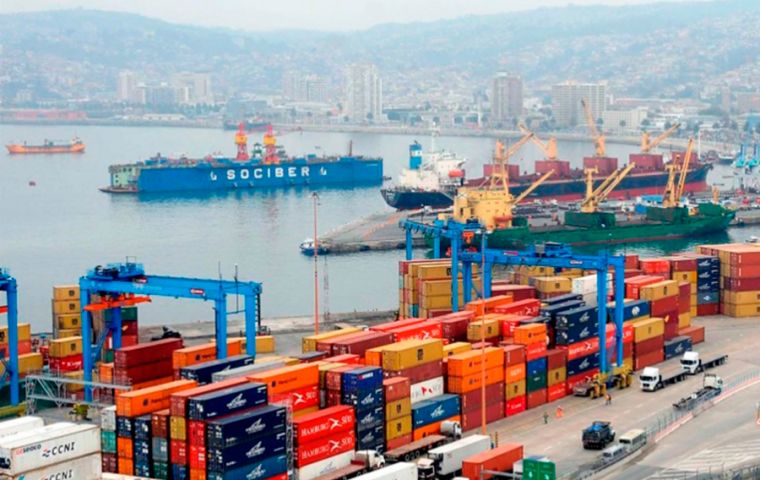 Comparing analysis of foreign trade by sea in the first quarter of 2023, reveals that this year there has been a drop of 8.4% in tons handled and an 8.1% decrease in cargo value, according to the Maritime and Port Chamber of Chile, Camport.
The decline in tons handled was primarily attributed to a 19.6% drop in general cargo, while the decrease in cargo value resulted from a 16.9% decline in the value of dry bulk. Furthermore, liquid bulk and solid bulk cargo decreased by 6.8% and 6.7%, respectively, with only a 6.7% increase in refrigerated cargo.
The decline in general cargo aligns with a 20.4% decrease in full container handling during the January-March 2023 compared to the same period in 2022.
Camport emphasized that general cargo represents the main demand for Chile's most important ports, accounting for 57.8% of the country's total foreign trade value during the analyzed period.
In the first quarter of this year, maritime freight prices (BDI and SCFI) continued to show a downward trend, approaching pre-pandemic levels. China maintained its position as the top trade partner for both imports and exports.
Camport's analysis revealed a decrease of 172 thousand tons in total exported cargo when comparing the first quarters of 2023 and 2022. This decline can be attributed to a slight drop in general cargo. Notable variations between the two periods include a 457 thousand-ton decrease in copper minerals and concentrates, a decline of 181 thousand tons in chemical wood pulp, and a contraction of 169 thousand tons in mineral fertilizers.
However, iron ores and concentrates experienced an increase of 398 thousand tons, salt grew by 302 thousand tons, and coal cokes and semi-cokes saw a rise of 62 thousand tons compared to the previous year.
Regarding imports, between January and March 2023, the total imported cargo declined by 2.4 million tons, mainly due to the drop in general cargo. On the other hand, notable increases were observed in crude oil cargoes, which rose by 390 thousand tons, sulfuric acid, which increased by 20 thousand tons, and corn, which saw an increase of 145 thousand tons.