RRS Sir David Attenborough back in UK; she returns to Antarctica in October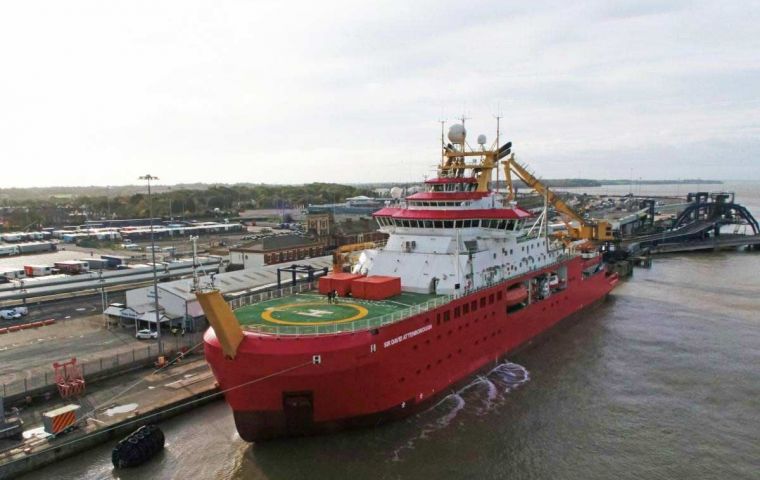 The Falkland Islands' flagged RRS Sir David Attenborough has returned to the UK after a second season docked at Antarctica. The crew completed its polar science trials during what was a seven-month mission. The vessel arrived at Harwich in Essex on Tuesday.
The 129m ship is due to leave again on 8 June for refitting work in Rosyth, Scotland, before being used for further trials on the Scottish coast.
The boat departed Harwich in November last year, before a three-week voyage to the Falkland Islands, and then onward to the Rothera Research Station at Antarctica.
A team of 37 scientists were left at Bird Island, King Edward Point and Rothera to carry out further research.
A spokesperson at the British Antarctic Survey (BAS), based in Cambridge, said the crew got the "first clean seawater chemistry samples using the trace metal CTD".
Marine biologists also used a high-resolution camera to "reveal how life is colonizing new fjords that are appearing because of retreating glaciers".
The team at Bird Island carried out annual surveys of seabirds and seals, while scientists at Edward Point conducted similar surveys on whales, krill and penguins.
Before returning to the UK, she was docked in the Falklands and was visited by school children and members of the community. The ship is scheduled to return to Antarctica for a third season in late October.