FBI's most damaging spy found dead in his cell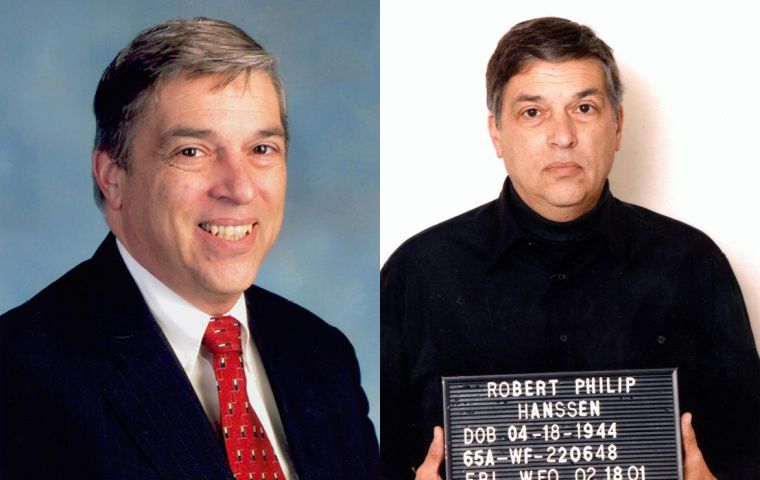 Former FBI agent Robert Hanssen, who had been sentenced to life in prison for spying for the Soviet Union and later Russia, was found dead in his cell Monday, the Federal Bureau of Prisons said.
"At approximately 6:55 a.m., inmate Robert Hanssen was found unresponsive at the United States Penitentiary Florence ADMAX in Florence, Colorado," a release from the Federal Bureau of Prisons said.
"Responding staff immediately initiated life-saving measures. Staff requested emergency medical services and life-saving efforts continued," Bureau of Prisons Spokeswoman Kristie Beshears said in a statement. "Mr. Hanssen was subsequently pronounced deceased by EMS personnel."
Hanssen, 79, was sentenced in 2002 to life in prison after pleading guilty to spying for the Soviet Union and later Russia for more than 20 years.
Hanssen joined the Federal Bureau of Investigation (FBI) in 1976 and began selling classified information to the Soviet Union in 1985, according to the bureau's website.
At the time of his arrest in 2001, he had been compensated with more than $1.4 million in cash, bank funds, and diamonds, in exchange for compromising numerous human sources, intelligence techniques, and classified documents.
FBI investigators worked for years to try to identify the spy within their ranks. In the weeks leading up to his arrest in February 2001, some 300 staff members were involved in the investigation and kept tabs on Hanssen, according to the bureau.
Hanssen was arrested after being caught making an exchange of classified material in a suburban Virginia park, according to the FBI.
The former agent had been serving his life sentence at a maximum-security facility in Colorado known as the "Alcatraz of the Rockies," the supermax security prison notorious for keeping inmates in solitary for 23 hours a day, since July 17, 2002, after pleading guilty to 15 counts of espionage and conspiracy to avoid the death penalty.
Before his arrest, Hanssen was a counterintelligence specialist with the bureau's National Security Division, which gave him access to information from the National Security Agency and the State Department.
He was arrested in February 2001 near his Virginia home while conducting a "dead drop" for his Russian handlers. FBI agents found the package containing highly classified information and a separate package containing $50,000 cash.
In over 20 years, Hanssen never visited Russia or met his handlers directly. The KGB and its successor agency, the SVR, knew him only by the alias "Ramon Garcia." They communicated via "car for sale" ads in a local newspaper.
The FBI called Hanssen "the most damaging spy in Bureau history," while his activities have been described as "possibly the worst intelligence disaster in US history."
Hanssen's disclosures, along with those of CIA double agents Edward Lee Howard and Aldrich Ames, "were responsible for the literal annihilation of the CIA's human intelligence networks operating in the USSR during the mid-1980s," according to former US weapons inspector Scott Ritter.
Meanwhile, Hanssen lived a quiet life in the suburbs with his wife Bonnie and six children. Bonnie would later tell journalists that she confronted him about the spying in 1979, but he was able to convince her he was "deceiving" the Soviets by feeding them false information.
In a March 2020 interview, SVR head Sergey Naryshkin said that Ames and Hanssen had "made a simply outstanding contribution to the security of the Soviet Union."