Pence launches Oval Office bid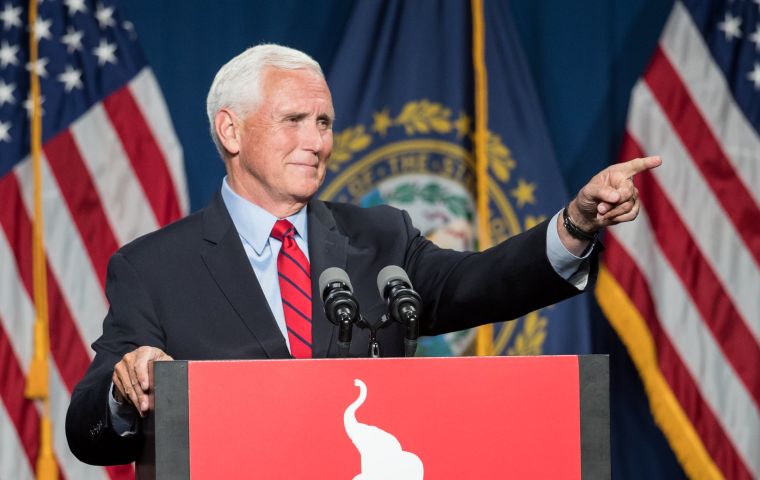 Former US Vice President Mike Pence Monday launched his candidacy for the White House, thus setting up an unprecedented clash in the Republican primaries with his former running mate Donald Trump.
Pence, who was Trump's vice president (2017-2021), has already submitted all the necessary documentation to also challenge Florida Governor Ron DeSantis, former US Ambassador to the UN Nikki Haley, former Arkansas Governor Asa Hutchinson, and South Carolina Senator Tim Scott, who is the only Afro-descendant of the conservative bloc, for the Republican nomination.
He is expected to make a formal announcement Wednesday, on the day of his 64th birthday.
While Trump leads all polls, Pence has strong support from the "Committed to America" super PAC campaign committee, which he launched in mid-May and co-chairs with former Texas Congressman Jeb Hensarling and veteran Republican consultant Scott Reed. A Super PAC is a fundraising association that can obtain donations from individuals, businesses, and trade unions.
Pence is likely to emerge as a strong religious figure among evangelicals. The former vice president repeatedly spoke out against surgical abortion and pregnancy termination pills. He has also drawn criticism for his stance on gay rights and for supporting a ban on same-sex marriage in his state.
"We can be a nation where everyone prospers, and everyone wins. We can have a government that is as good as our people. And we can be a nation where every American is free to live, to work, and to worship, according to the dictates of their faith and conscience!," Pence said on social networks.
Last week, the Justice Department confirmed it would not pursue charges against Pence after his attorneys found several classified documents inside a box at his Indiana home.