Biden, Sunak sign "Atlantic Declaration" to address new technologies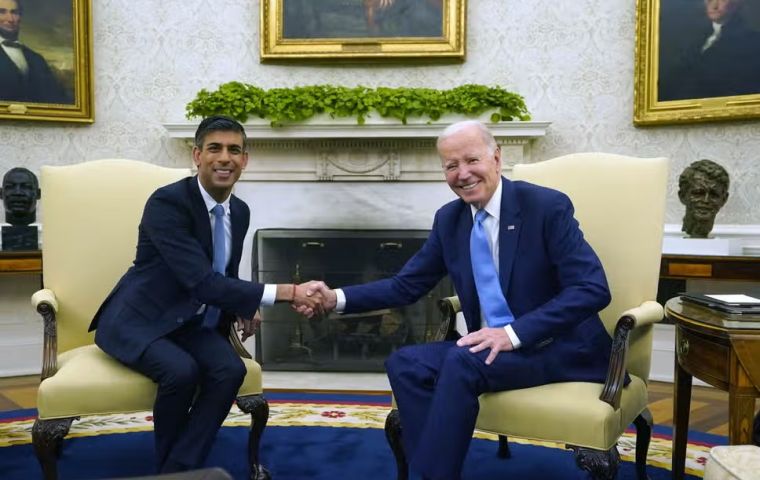 US President Joseph Biden and UK Prime Minister Rishi Sunak Thursday renewed the economic alliance between the two countries by adapting it to the current world's transformations such as artificial intelligence (AI) and the climate crisis by signing the so-called Atlantic Declaration. Both leaders met at the White House to also discuss the war in Ukraine and the global economy.
"Today we have signed the Atlantic Declaration. It is a new economic alliance for a new era, something that has never been agreed upon before," Sunak told reporters.
The Atlantic Declaration states that the two countries will begin negotiating a trade agreement on critical minerals, which are essential for manufacturing everything from solar panels to electric vehicles, which is of vital importance, as their extraction and processing is currently in the hands of China.
In addition, the two leaders pledged to work together in the area of quantum computing, intellectual property protection, and semiconductor manufacturing, where China also has global leadership.
Instead of an economy-wide trade agreement, the text signed Thursday establishes sector-by-sector trade pacts and seeks to encourage private investment between the two nations.
On the other hand, this statement advances that London and Washington will accelerate their collaboration on artificial intelligence, one of the highest priority topics at the meeting.
Biden and Sunak made it clear that one of the goals of the partnership is to ensure that new technologies are not used by authoritarian regimes to harm the world's democracies.
"While new technologies give us incredible opportunities, they also give our adversaries more tools to do harm," warned Sunak, who fears above all that countries like China and Russia will use artificial intelligence for repressive purposes.
Faced with the continuous advance of artificial intelligence, the British government announced that it will organize an international summit next fall to assess the risks and opportunities of this new technology.
Regarding the war in Ukraine, both leaders delivered military aid to Kyiv since the Russian invasion in February 2022. They are also coordinating training for Ukrainian pilots in the use of fourth-generation fighter jets, including the much sought-after F-16s, produced in the United States.
Sunak and Biden also reiterated their "unwavering support for the people of Ukraine," Biden told reporters at a joint press conference.